December 11, 2019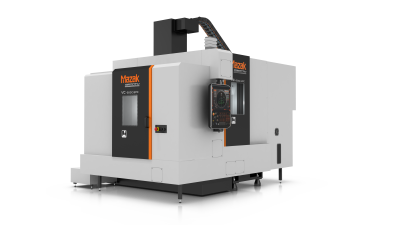 Mazak Corp.'s VC-500C/2PC vertical machining center brings a compact design and increased production capabilities for small to medium part machining in a variety of industries. The 3-axis machine debuted its new 40" inline two-pallet changer with rotary table mounted on one pallet and multiple vices on the second pallet to maximize spindle utilization and allows shops to benefit from continuous uninterrupted production.

The VC-500/2PC pallet changer design makes it easy to incorporate a variety of optional accessories such as rotary tables on both pallets, hydraulic or pneumatic fixtures on both pallets or a combination of each for high production setups. And because each pallet has an extended length of 40", shops can arrange them with a small trunnion table or combine a rotary table and tailstock to machine shaft components, offering extreme flexibility for higher production parts.
The VC-500C/2PC features a rigid, powerful 25-hp spindle capable of speeds of 12,000 rpm that delivers exceptional metal removal capabilities in all common materials. To further enhance production speed, the machine is available with a 30-, 40- or 60-tool magazine with a servo-driven automatic toolchanger (ATC) for continuous operation
capabilities and shorter cycle times through fast tool exchanges. An efficient chip management system helps reduce maintenance and work stoppages.
The machine's 3-axis table enables quick and simple setups. The X-axis features a 39.4" stroke, and travels for the Y and X axes are 19.88" and 20.07" respectively.
The VC-500C/2PC is equipped with the Mazatrol SmoothG CNC. The innovative programming, performance and monitoring functions, as well as the ability to use both EIA/ISO and conversational programming bring optimal speed and accuracy to complex part production. Advanced hardware – including a pivoting CNC panel and intuitive, 19" multiple-touch LCD control screen – allows for complete ease of use.