December 11, 2019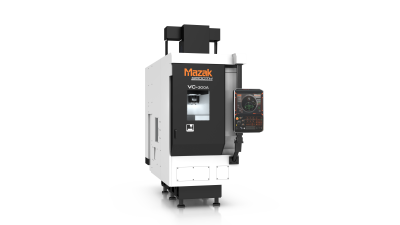 Made in Kentucky, the simple but innovative Mazak VC-300A vertical machining center with 3-axis table can take 40-taper cuts in hard-to-machine 410 stainless material on a typical 30-taper-sized machine.

In addition to its small footprint and easy installation, the VC-300A provides effortless programming in either Mazatrol conversational language or EIA/ISO for faster part cycle times thanks to its Mazatrol SmoothG CNC. It has a high-performance CAT-40, 12,000-rpm grease-pack spindle that delivers exceptional metal removal in not only tough-to-machine materials but also common ones such as steel, aluminum and cast iron.

With a new standard 30-tool magazine capacity, the VC-300A helps reduce setup time and allows for redundant tooling, as well as for more tooling dependent part production.
To simplify tool changing, the machine's spindle clamps on to tools in the magazine to eliminate the use of a separate automatic toolchanger. Axis travels for the VC-300A measure 11.81" in X, 11.81" in Y and 20.08" in Z. In these three axes, the machine rapids at speeds up to 945 ipm.