August 09, 2022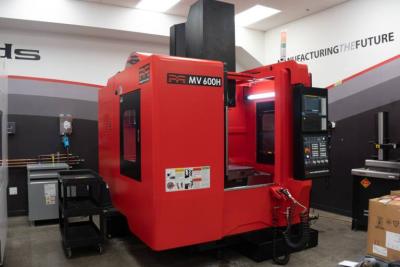 Methods Machine Tools, the foremost supplier of high-quality, high-precision CNC machine tools and automation in North America, recently released the Methods MV 600H, a three-axis vertical machining center (VMC).
The MV 600H's compact design, high-end features, expansive workpiece envelope, and powerful torque work in harmony to create an all-purpose machine tool that can handle any job, any material, for any industry.
Designed with more features than any other machine tool in its class, the MV 600H's standard features include:
A 24-capacity automatic tool changer

19 hand-scraped surfaces for long-term precision and fluid movements

A BIG-PLUS, dual-contact, 40-taper spindle for improved tool life, surface finishing, and rigidity
Its ready-made versatility positions owners to accept a wider range of jobs across a wider customer base with consistent machining experiences.
"Jobshops must have every inch of floor space pulling its weight," said Darren Wall, Product Manager for the Methods product line. "We realized there was an underserved need in the market for flexible, compact machines. That's why we introduced the MV 600H. It's packed with sophisticated features and leading design principles, but small enough to fit in any corner of your shop so it can start adding to your bottom line immediately."
The MV 600H has a solid box-type guideway on the Z-axis for better vibration dampening and heavy-duty cutting, as well as nimble cylindrical roller guideways on the X- and Y-axes, for faster table speeds and improved accuracy.
Machines that implement both types of guideways give machine shops the perfect combination of high-speed machining and superior rigidity.
"You won't have to sacrifice rigid cuts for quick rapids," Wall added. "It's a well-rounded workhorse that can shift jobs on a dime and start contributing to your operation on day one. Any shop that installs a MV 600H will immediately recognize it as a cornerstone machine, thanks in part to its distinct coat of red paint."
Other features include:
Thermal compensation system, including a spindle oil chiller, enabling consistent, precise cuts.

Oil/air spindle lubrication for longer spindle life.

30 HP (15 min.) direct drive, hollow shaft FANUC alpha-series spindle motor with 111 foot-pounds of torque.

Low- and high-speed spindle motor windings.

X- and Y-axis rapids of 2,362 inches per minute (IPM) for swift, smooth movements.

200 block look ahead for optimized feed rates, accuracy and productivity.
The MV 600H is the latest addition to the Methods line of vertical and horizontal machining centers. Developed by Methods and manufactured by Litz Hitech Corp., the MV 600H is the result of decades of engineering and service experience packaged in a compact, powerful machine to address midmarket machining demand.
Each machine is backed by Methods' industry-leading service and support. All Methods products are engineering and inspected to meet strict quality control specifications and comply with ISO/SME standards.