October 05, 2022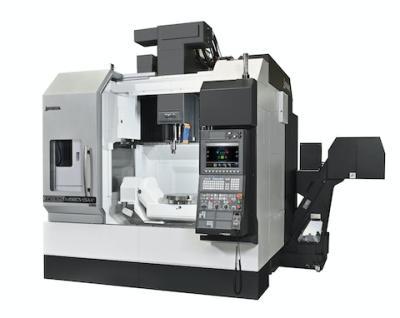 The new GENOS M560V-5AX is an impressive next-generation product evolved from two of the Okuma America Corporation's best-selling vertical machining centers – the GENOS M560V which has become a standard-bearer in the industry, and the GENOS M460V-5AX which launched in 2017 as an answer to a market need for an affordable, compact 5-axis vertical machine, with no compromise on the design or accuracy.
Machine Design
The GENOS M560V-5AX is built with a double-column machine design, affording it maximum structural integrity. The machine offers an impressive working envelope with a 500mm table and wide axis travels (X: 1,050 mm, Y: 560 mm, Z: 460 mm), while still maintaining a compact footprint of 2,515 mm x 3,750 mm. Further optimizing the machine's design, the GENOS M560V-5AX includes a trunnion table positioned parallel to the front of the machine which allows for easier access to the table and good visibility during machining. This, and other user-friendly features on the machine, reduce physical burden on the operator. Additionally, the machine comes standard with a 60 ATC (automatic tool changer) magazine and can also accommodate tools measuring up to 400mm in length.
Built-In Energy Savings Features
The GENOS M560V-5AX comes standard with Okuma's Thermo-Friendly Concept, an on-board thermal and energy management technology to support both stable, high-accuracy machining and reduce energy consumption.
Key Specs of the GENOS M560V-5AX Vertical Machining Center:
Table Size: 500 mm
Max Workpiece Dimensions: 700 x 500 mm
Spindle Maximum Speed: 15,000 min⁻¹
Spindle Motor Power: 22/18.5 kW
Axes Travel: 1,050 mm (X-axis), 560 mm (Y-axis), 460 mm (Z-axis)
Floor Space: 2,515 x 3,750 mm (w x d)
Weight: 10,000 kg
With its versatility and 5-axis cutting capabilities, the GENOS M560V-5AX provides shops with the ability to expand their operational possibilities.
Related Glossary Terms
centers


centers

Cone-shaped pins that support a workpiece by one or two ends during machining. The centers fit into holes drilled in the workpiece ends. Centers that turn with the workpiece are called "live" centers; those that do not are called "dead" centers.

parallel


parallel

Strip or block of precision-ground stock used to elevate a workpiece, while keeping it parallel to the worktable, to prevent cutter/table contact.