November 01, 2011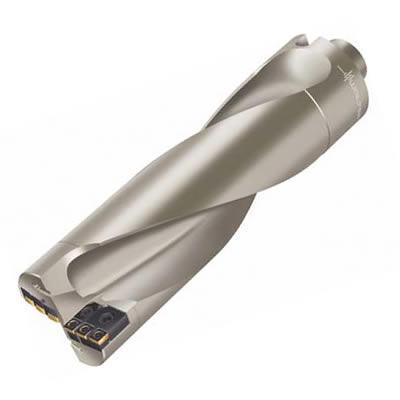 Walter USA LLC has expanded its versatile Walter Valenite Xtra-tec insert drill line with additional products at both ends of the diameter spectrum. For users who needed smaller diameter Xtra-tec insert drills than were previously available, Walter now offers these drills with diameters as small as 13.5mm (0.531"), suitable for depths up to 5xD. The tools in this range are equipped with size 1 (P484-1r) inserts.
At the other end of the spectrum, Walter has introduced drills in a cartridge format for the 60-120mm (2.35-4.70") diameter range. The cartridge format allows easy replacement of wear parts. The standard version features a diameter of 80mm (3.15") with 3xD depth, while a 120mm (4.70") diameter and 5xD depth model is offered as a special.
Suitable for use with all steels, including stainless, as well as cast iron and other hard to machine materials, these new cartridge versions exhibit a high degree of process reliability thanks in part of the positive locking of the cartridges. Precision is enhanced thanks to the fact that the hole diameter can be finely adjusted to + 0.6mm (0.024") on the outer cartridge. The center cartridge is equipped with a heavy-duty PVD coated Tiger-tec cutting tool material. Indexable inserts with various Tiger-tec grades can be selected for the outer cartridges, including wiper edges which help ensure excellent surface quality.
Flexibility is boosted because the shank of the drill body has a modular NCT tool interface connection, enabling these models to be used on nearly any machine spindle. Plus, the interface helps ensure maximum stability due to its short taper and support face.
The cartridge versions offers further advantages, such as: drilling into solid material, inclined drilling, spot drilling on convex surfaces and chain drilling. The inserts have four cutting edges minimizing the costs per cutting edge. In addition, TorxPlus insert clamping screws provide a higher clamping and release torque, as well as easy handling. A hard-nickel plated surface protects the tool body from corrosion and wear while facilitating chip flow.
Related Glossary Terms
physical vapor deposition ( PVD)


physical vapor deposition ( PVD)

Tool-coating process performed at low temperature (500° C), compared to chemical vapor deposition (1,000° C). Employs electric field to generate necessary heat for depositing coating on a tool's surface. See CVD, chemical vapor deposition.

shank


shank

Main body of a tool; the portion of a drill or similar end-held tool that fits into a collet, chuck or similar mounting device.

wiper


wiper

Metal-removing edge on the face of a cutter that travels in a plane perpendicular to the axis. It is the edge that sweeps the machined surface. The flat should be as wide as the feed per revolution of the cutter. This allows any given insert to wipe the entire workpiece surface and impart a fine surface finish at a high feed rate.