September 18, 2019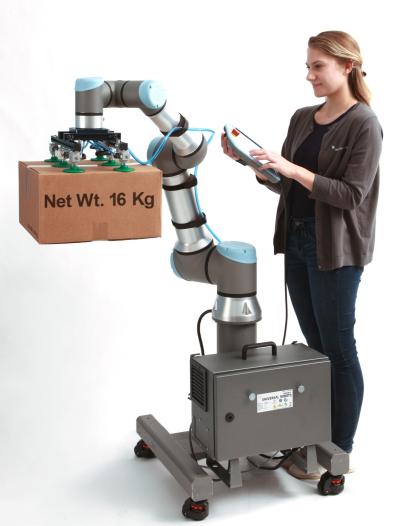 Universal Robots announces the immediate availability of the UR16e, which boasts a 16 kg (35 lbs.) payload capability. The new UR16e combines the high payload with a reach of 900 mm and pose repeatability of +/- 0.05 mm, making it suitable for automating tasks such as heavy-duty material handling, heavy-part handling, palletizing and machine tending. With UR16e, Universal Robots is introducing the highest payload and best pose repeatability in this reach class.
"In today's uncertain economic climate manufacturers need to look at flexible solutions to stay competitive," said Jürgen von Hollen, president of Universal Robots. "With UR16e, we meet the need for a collaborative robot that can tackle heavy-duty tasks reliably and efficiently. This launch significantly expands the versatility of our product portfolio and gives manufacturers even more ways to improve performance, overcome labor challenges, and grow their business."
UR16e makes accelerating automation easy and fast. Programming and integration is simple – regardless of the user's experience or knowledge base. Like all UR's cobots, UR16e can be unpacked, mounted and programmed to perform a task within less than an hour. With a small footprint and 900 mm reach, UR16e easily integrates into any production environment without disruption.
With its 16 kg payload, UR16e eliminates the ergonomic and productivity challenges associated with lifting and moving heavy parts and products, lowering costs, and reducing downtime.
Rugged and reliable, UR16e is ideal for automating high-payload and CNC machine tending applications, including multiple-part handling, without compromising on precision.
"At Universal Robots we continue to push the boundaries of what's possible with collaborative automation," continued von Hollen. "Today, we're making it easier than ever for every manufacturer to capitalize on the power of automation by bringing a cobot to market that is built to do more, as it delivers more payload than our other cobots."
Like with UR's other e-Series cobots, the UR16e includes built-in force sensing, 17 configurable safety functions, including customizable stopping time and stopping distance, and an intuitive programming flow. UR16e meets the most demanding compliance regulations and safety standards for unobstructed human-robot collaboration, including EN ISO 13849-1, PLd, Category 3, and full EN ISO 10218-1.
Related Glossary Terms
computer numerical control ( CNC)


computer numerical control ( CNC)

Microprocessor-based controller dedicated to a machine tool that permits the creation or modification of parts. Programmed numerical control activates the machine's servos and spindle drives and controls the various machining operations. See DNC, direct numerical control; NC, numerical control.

payload ( workload)


payload ( workload)

Maximum load that the robot can handle safely.