July 29, 2019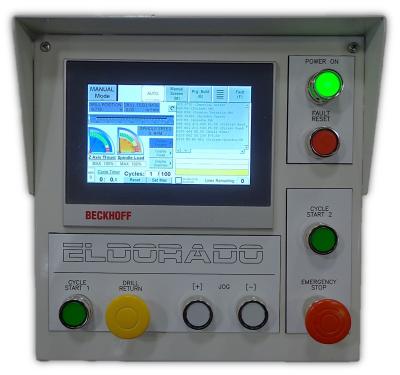 Every new Eldorado gundrilling machine now features an updated operator control panel. While still using a PC-based system featuring Beckhoff controls, both the hardware and software have been improved with job shop operators in mind.
The display screen has been enlarged to 7 inches, which allows for larger graphics and easier-to-read menus. Touchscreen capability has also been added to improve menu navigation. Large pushbuttons have replaced the keypad, which makes the control panel more durable and easier to use in a shop floor setting.
The new control also features CNC G-Code programming capability, which allows the customer to write their own gundrilling programs. This improves machine flexibility with options like variable feeds and speeds, drilling peck cycles, dwell times, and many other basic G-Code capabilities. A simple USB connection for an external keyboard makes it easy to quickly type new G-Code programs while standing at the machine.
For shops with older Eldorado machines, the new control is available as a retrofit package.
Related Glossary Terms
G-code programming


G-code programming

Programs written to operate NC machines with control systems that comply with the ANSI/EIA RS-274-D-1980 Standard. A program consists of a series of data blocks, each of which is treated as a unit by the controller and contains enough information for a complete command to be carried out by the machine.

computer numerical control ( CNC)


computer numerical control ( CNC)

Microprocessor-based controller dedicated to a machine tool that permits the creation or modification of parts. Programmed numerical control activates the machine's servos and spindle drives and controls the various machining operations. See DNC, direct numerical control; NC, numerical control.

gundrilling


gundrilling

Drilling process using a self-guiding tool to produce deep, precise holes. High-pressure coolant is fed to the cutting area, usually through the gundrill's shank.