October 19, 2022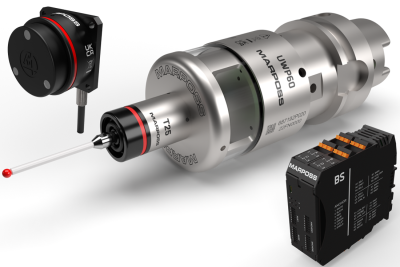 Marposs, a global leader in measurement, inspection and test technologies, has announced the availability of its new Ultra Probing System with ultra-wideband transmission technology. This high-accuracy touch probe automatically detects the position of the machine axes to provide quick and accurate part positioning and tool checking. The key differentiator is that the Ultra Probing System transmits on a different bandwidth than most of today's devices, providing a total solution in terms of performance and signal transmission reliability.
In recent years there has been an exponential increase in Wi-Fi devices on the shop floor, leading to saturation of the 2.4 GHz band, resulting in noise interference that affects the reliability of wireless probing systems. This causes downtime, as well as decreasing the quality of the production process. The Marposs Ultra Probing System uses a different-- ultra wideband -- transmission range so that it is immune to other physical signals, eliminating interference to ensure reliability and machine uptime.

The system comes with a choice of two different touch probes. The UWP45 is a 45mm diameter touch probe ideal for multi-axis machining centers and compatible with the Marposs T25, TT25, TT30 and T25P probe ranges. The UWP60 is a 60mm diameter touch probe that is suited for use on large scale workstations and vertical lathes. It can be configured for use with Marposs T25, TT25 and T25P probes with extensions up to one meter in length.

The Ultra Probing System also includes an Anchor Antenna with 3 LED indicators, which is very compact for easy and fast installation, and a new Marposs APP that provides easy system setup as well as real-time monitoring of system, combined with diagnostic and service operations. Additionally, a new generation connector connects the Anchor to the machine's CNC via a wired cable for higher reliability.
Related Glossary Terms
bandsaw blade ( band)


bandsaw blade ( band)

Endless band, normally with serrated teeth, that serves as the cutting tool for cutoff or contour band machines.

centers


centers

Cone-shaped pins that support a workpiece by one or two ends during machining. The centers fit into holes drilled in the workpiece ends. Centers that turn with the workpiece are called "live" centers; those that do not are called "dead" centers.

computer numerical control ( CNC)


computer numerical control ( CNC)

Microprocessor-based controller dedicated to a machine tool that permits the creation or modification of parts. Programmed numerical control activates the machine's servos and spindle drives and controls the various machining operations. See DNC, direct numerical control; NC, numerical control.