September 22, 2016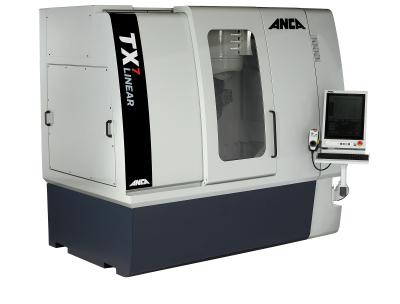 ANCA offers the all-new 2017 TX7 Linear CNC tool and cutter grinder. Built upon the TX7+, the new TX7 Linear has been updated with ANCA innovations that ensure its users stay competitive as the production and quality requirements of precision CNC tool grinding become more demanding.
Enhancements, which will also be carried across the complete TX product line range including TX7, TXcell, TapX and SBG, include:
LinX linear motors and linear scales as standard on X, Y and for the first time, Z axis. Proven on the ANCA FX and MX machine ranges, LinX motors have delivered unsurpassed long term reliability and accuracy. Operating without the need for a dedicated chiller system saving on running costs, LinX linear motors do not develop mechanical backlash, ensuring high quality grinding results for the life of the machine, including surface finishes nowhere else achievable.
AM5X CNC and servo drive system will provide the latest in processing speed, grinding precision and machine reliability, ensuring smooth, optimal running of the machine.
Ergonomic new user control panel with 19" touch screen monitor and keyboard/mouse tray includes tilt feature to allow easy adjustment for different height operators.
A remote (handheld) pendant allows easy and safe access to the machine control and minimizes setup time.
ToolRoom 2016 delivers ANCA's latest application programming software. Renowned for its industry leading ease of use and flexibility, ToolRoom covers all common tool types and enables creation of new tool designs and features.
Other features of the TX7 include:
37kW (49HP) peak power direct drive spindle with BigPlus arbor
On machine tool measurement with LaserPlus and iView
2- wheelpack changer with options up to 24 wheels on TXcell Linear
A variety of tool support options including fixed and travelling steady
Two independent wheel dressing options
Tool loading options with RoboMate on TX7 Linear or upgrade to TXcell Linear.