May 13,2013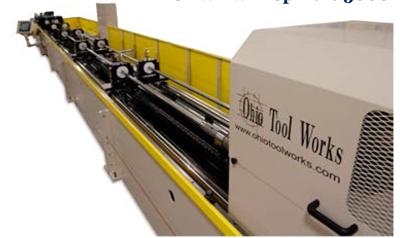 Ohio Tool Works (OTW) announced the launch of its newest honing machine: the OTW Twin-Spindle 5000.
Developed for one of the world's largest oil country tubular goods manufacturers, the OTW Twin-Spindle 5000 was specifically designed to help suppliers of pump barrels, and other high volume extraction related products, achieve new levels of productivity while protecting the dimensional integrity of their thin-wall, small diameter, parts.
To do so, the OTW Twin-Spindle 5000 offers a package of proprietary honing technologies and advantages, including:
Twin parallel spindles for simultaneous production of two (2) barrels
Quick-change, hydraulic fixturing for rapid part clamp and unclamp
Specialized tooling and cutting fluid formulations, tailor-made to improve straightness, surface finish and preserve wall integrity in DOM tubing, brass and chrome plate
Independent feed systems for adjusting stock removal rates between parts
Automated touchscreen PLC controls for easy operation in the high production environment
Superior construction and durability of system, tooling, and abrasives
According to Randy Iselt, OTW's Vice President of Sales, the OTW Twin-Spindle 5000 offers pump barrel manufacturers the opportunity to potentially double their production. "At Ohio Tool Works, we take pride in our dual commitment to quality and innovation, and the OTW Twin-Spindle 5000 delivers on both. By balancing the needs for high volume output with small-diameter honing precision, the Twin-Spindle 5000 addresses the specific needs of our customers in the Oil industry, and the pump barrel market in particular," said Iselt. "We are excited to deliver this new high volume solution to all the places where pump barrels are honed and finished, from Houston to Singapore."
Related Glossary Terms
cutting fluid


cutting fluid

Liquid used to improve workpiece machinability, enhance tool life, flush out chips and machining debris, and cool the workpiece and tool. Three basic types are: straight oils; soluble oils, which emulsify in water; and synthetic fluids, which are water-based chemical solutions having no oil. See coolant; semisynthetic cutting fluid; soluble-oil cutting fluid; synthetic cutting fluid.

feed


feed

Rate of change of position of the tool as a whole, relative to the workpiece while cutting.

parallel


parallel

Strip or block of precision-ground stock used to elevate a workpiece, while keeping it parallel to the worktable, to prevent cutter/table contact.