December 12, 2011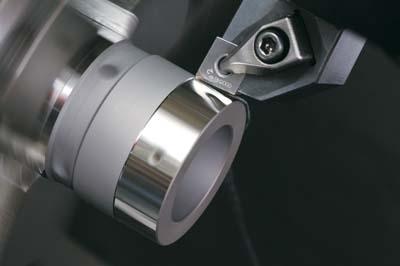 Sumitomo Electric Carbide Inc. is continuously pushing the envelope in productivity for hardened steel applications with its CBN technology. Sumitomo's most recent hardened steel turning advancement, the uncoated CBN grade BN2000, is no exception.
Specifically designed for turning die steels and bearing steels with hardnesses of 50 HRC and above, the BN2000 provides high wear resistance and robust toughness. The BN2000 boasts a newly developed CBN substrate consisting of a ceramic binder with exceptional purity. While impure binders contribute to premature chipping and cutting edge wear, the purity of the BN2000 significantly reduces tool failure.
The BN2000 excels in both continuous to medium interrupted hardened steel finishing applications. This wide application range makes the BN2000 suitable for even small bores that may require lower SFMs. Along with its exceptional tool life, the improved edge sharpness of the BN2000 offers customers consistent parts with the capability of attaining surface finishes as low as 3.2 Ra.
Related Glossary Terms
cubic boron nitride ( CBN)


cubic boron nitride ( CBN)

Crystal manufactured from boron nitride under high pressure and temperature. Used to cut hard-to-machine ferrous and nickel-base materials up to 70 HRC. Second hardest material after diamond. See superabrasive tools.

turning


turning

Workpiece is held in a chuck, mounted on a face plate or secured between centers and rotated while a cutting tool, normally a single-point tool, is fed into it along its periphery or across its end or face. Takes the form of straight turning (cutting along the periphery of the workpiece); taper turning (creating a taper); step turning (turning different-size diameters on the same work); chamfering (beveling an edge or shoulder); facing (cutting on an end); turning threads (usually external but can be internal); roughing (high-volume metal removal); and finishing (final light cuts). Performed on lathes, turning centers, chucking machines, automatic screw machines and similar machines.

wear resistance


wear resistance

Ability of the tool to withstand stresses that cause it to wear during cutting; an attribute linked to alloy composition, base material, thermal conditions, type of tooling and operation and other variables.