September 17, 2018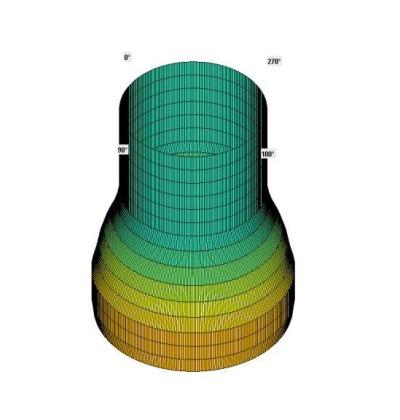 The future development impetus for the internal combustion engine will focus on the reduction of CO2 emissions. This is dependent upon fuel consumption, which in turn is determined by the internal engine friction. The goal of form honing is a form optimized cylinder bore under typical operating conditions. Gehring has developed a surface finishing process for internal combustion engines that does not target a cylindrical bore shape. The bore shape is based on the distortions of the geometry under operating conditions in the engine. Through the means of form honing, the reverse shape will be produced, so that in running conditions, a cylindrical shape exists. The deformation in the operating condition depends on the static assembly and thermal cylinder distortions.
This technology can be subdivided into two process variations: form honing light and form honing professional. Form honing light simulates thermal distortion by creating different tapered shapes.
The thermal expansion due to the higher taper in the top center leads to a cylinder bore, which must be honed to a smaller size at the top and a larger size at the bottom. Thus, the piston shirt has less contact with the bore, resulting in significantly less friction.
The conical shape is generated by feedback controlled stroke displacement with higher stock removal in the lower bore section, due to increased contact time with the abrasives. The dynamic electro-mechanical feeding changes the radial expansion position of the honing stones during the stroke movement according to the form and improves the previous conical shape, as a result.
These process components assure the reliability of round, noncylindrical tapered bores within the standard cycle timing. Form honing has already been integrated globally into mass production scenarios. Application of form honing light technology has shown that significant improvements in emissions reductions are possible.
Form honing professional does not only optimize the local piston clearance but also compensates for cylinder deviations from static and thermal distortions. That means that in running conditions round and straight bores can be achieved. Ring tension is reduced which results in adaptive friction and C02 reductions.
The noncylindrical shape deviations can be defined through CAE assessments or torque plate bracing and tempering. In order to be able to implement form honing professional, innovative processing hardware is necessary. The hardware includes: special honing tools with independent actuated abrasives, a piezo feeding system, a shape adaptive control and a spring loaded finish honing tool.
The shape data for the cylindrical deviations will be converted for every single cylinder of the engine using the form honing control. This dynamic process interaction between the feeding system, shape and the form honing tooling creates an optimal result.
Form honing professional has been implemented by customers for small production batch scenarios. The process produces cylinder deviations and surface finish profiles with high reproducibility and economical processing times.
The process delivers free shapes and surface profiles with high reproducibility to conditions that still conform to cycle times.
Advantages of form honing are recognized by engine manufacturers and have been implemented in numerous production lines on Gehring honing machines, worldwide. Future production applications are in process.
Related Glossary Terms
clearance


clearance

Space provided behind a tool's land or relief to prevent rubbing and subsequent premature deterioration of the tool. See land; relief.

computer-aided engineering ( CAE)


computer-aided engineering ( CAE)

Engineering functions performed with the help of computers and special software. Includes functions such as determining a material's ability to withstand stresses.

tempering


tempering

1. In heat-treatment, reheating hardened steel or hardened cast iron to a given temperature below the eutectoid temperature to decrease hardness and increase toughness. The process also is sometimes applied to normalized steel. 2. In nonferrous alloys and in some ferrous alloys (steels that cannot be hardened by heat-treatment), the hardness and strength produced by mechanical or thermal treatment, or both, and characterized by a certain structure, mechanical properties or reduction in area during cold working.