August 13, 2013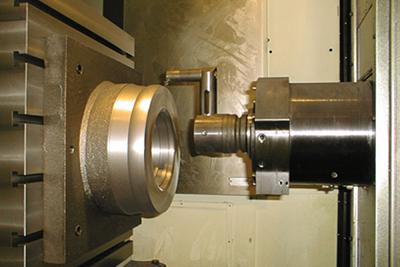 Okuma America Corp. introduces its Turn-Cut function, which allows for processing work on horizontal machining centers without the need to use secondary machinery for a turning application. Turn-Cut is available as an option on Okuma's MA and MB series of horizontal machining centers and, in some cases, can also be retrofitted to an existing Okuma machining center.
Turn-Cut is a programming option available on Okuma horizontal machining centers that allows the machine to create bores and diameters that include circular and/or angular features. This enables users to turn features on large, unbalanced parts on the same platform where standard CNC machining functions are performed, eliminating the need to purchase special-purpose machines, tooling, fixtures or add-on components. Adding the Turn-Cut functionality to a machining center does not interfere with performance or longevity of the machine, and often enhances performance with the addition of abso-scales and in some cases, Super-NURBS.
Cutting is performed on a horizontal machining center with the Turn-Cut function by synchronizing the circular motion of the feed axis with the spindle's turning angle (tool tip position control). The surfaces created by Turn-Cut can be either on the outside or inside diameter of the machined part.