December 08, 2017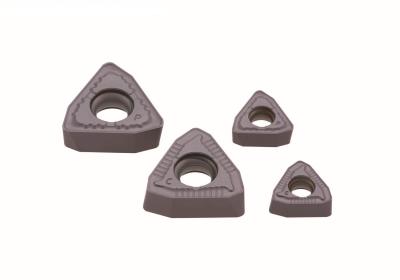 Tungaloy is expanding its insert line for TungSix-Drill, the head-changeable drill, to include grade AH3135. TungSix-Drill is an indexable insert drill that incorporates double-sided, triangular inserts with six effective cutting edges. Unlike traditional double-sided inserts, which would generate unwanted, heavy cutting load during drilling, the TungSix-Drill insert is designed with an optimized rake angle and chipbreakers on both sides of the insert, which provide the same light cutting action as a single-sided, positive insert.
AH3135 is a high fracture-resistant grade consisting of a tough carbide substrate and multiple layers of coatings designed to withstand high vibrations due to unfavorable cutting conditions ensuring long tool life.
Thanks to the insert's increased number of cutting edges and tool life, TungSix-Drill provides the most efficient cost-per-insert economy in Tungaloy's holemaking line.
At a glance:
Drill diameters: 0.812" – 2.000" (20 - 27 mm), 2xD, 3xD, and 4xD
Double-sided inserts with six fully usable cutting edges
Identical inserts used for both the center and the periphery
High hole-diameter accuracy due to the optimal insert positioning
Robust center cutting edge due to the most effective geometry
AH3135 grade for fracture resistance
Related Glossary Terms
indexable insert


indexable insert

Replaceable tool that clamps into a tool body, drill, mill or other cutter body designed to accommodate inserts. Most inserts are made of cemented carbide. Often they are coated with a hard material. Other insert materials are ceramic, cermet, polycrystalline cubic boron nitride and polycrystalline diamond. The insert is used until dull, then indexed, or turned, to expose a fresh cutting edge. When the entire insert is dull, it is usually discarded. Some inserts can be resharpened.

rake


rake

Angle of inclination between the face of the cutting tool and the workpiece. If the face of the tool lies in a plane through the axis of the workpiece, the tool is said to have a neutral, or zero, rake. If the inclination of the tool face makes the cutting edge more acute than when the rake angle is zero, the rake is positive. If the inclination of the tool face makes the cutting edge less acute or more blunt than when the rake angle is zero, the rake is negative.
Additional Products from Tungaloy America Inc.