February 18, 2016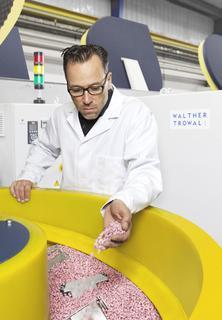 Walther Trowal GmbH & Co. KG, Haan, Germany, recently introduced "trowalplast HDC," a newly developed, fast-cutting plastic media said to be ideal for grinding and surface smoothing of metal workpieces, especially die-castings, the company announced in a Feb. 11 news release.
While the high density and sharp edges of the embedded abrasive material contribute to a drastic shortening of process times, they also produce excellent surface finishes at a surprisingly low wear rate, according to the company.
The new HDC media (High Density Cut), which Walther Trowal is introducing in the German market, consists of a plastic carrier filled with zirconium silicate, thus combining the advantages of lightweight plastic media with the extremely high density of the abrasive filler material. This combination yields metal removal rates that are said to be comparable to ceramic media with low wear rate and excellent surface finishes.
"Many of our customers would love to work with ceramic media, because their finishing tasks require a high grinding performance," Angelika Helten, head of the chemical lab at Walther Trowal. "But ceramic media tends to chip and frequently wears relatively fast. That is why they are using plastic media, which produces the required finishing results, but at much longer processing times. Our new HDC media combines the advantages of plastic and ceramic and is, therefore, the ideal solution."
The trowalplast HDC reportedly is equally effective in all types of mass finishing equipment, including high-energy centrifugal disk finishing machines and linear continuous feed vibratory systems.
Related Glossary Terms
abrasive


abrasive

Substance used for grinding, honing, lapping, superfinishing and polishing. Examples include garnet, emery, corundum, silicon carbide, cubic boron nitride and diamond in various grit sizes.

feed


feed

Rate of change of position of the tool as a whole, relative to the workpiece while cutting.

grinding


grinding

Machining operation in which material is removed from the workpiece by a powered abrasive wheel, stone, belt, paste, sheet, compound, slurry, etc. Takes various forms: surface grinding (creates flat and/or squared surfaces); cylindrical grinding (for external cylindrical and tapered shapes, fillets, undercuts, etc.); centerless grinding; chamfering; thread and form grinding; tool and cutter grinding; offhand grinding; lapping and polishing (grinding with extremely fine grits to create ultrasmooth surfaces); honing; and disc grinding.