December 01,2015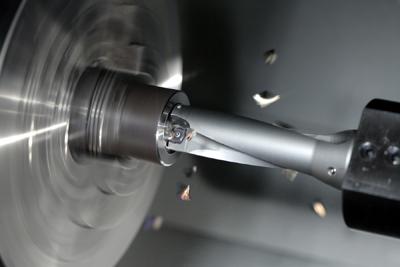 The new Top Cut 4 indexable drilling platform from WIDIA is targeted to end users that machine a broad assortment of products and need one drill for a variety of drilling applications and workpiece materials.
Expanded capabilities and improved performance combine for outstanding results in the new Top Cut 4 indexable holemaking platform from WIDIA. A true multi-problem-solver in one platform, Top Cut 4 is targeted to end users that need one drill that can be applied in a variety of drilling applications and different workpiece materials. Top Cut 4's breadth of application capabilities include through- and cross-holes, inclined entry and exit opportunity, 45º corner, half-cylindrical, concave, and chain drilling. And four true cutting edges combined with WIDIA-grade technology results in notably higher speeds and feeds, higher metal-removal rates, and extended tool life, all of which means lower cost per edge.
"Process stability is a significant challenge and the driver behind Top Cut 4 and its development," says WIDIA Product Manager Vivian Pavlov. "What process stability simply means is the ability to quickly select and successfully apply a tool even in an unfamiliar or unstable condition. Users need one drill that can be applied in a variety of drilling operations and workpiece materials. Top Cut 4 addresses this challenge with cutting performance at higher speeds, which makes it the proven choice in lowest cost per edge."
Top Cut 4 periphery and center inserts each feature proprietary cutting profiles for excellent centering capability and workpiece penetration. The inner and outer (center and periphery) inserts are clearly differentiated for no mixups, and are available in grades for high-speed applications, high toughness demands, and high metal-removal rates in general. Specific geometries are available with such features as reinforced cutting edges and a steep chipbreaker for steel, cast iron, and short-chipping materials, or an optimized chip groove for stainless steel, long-chipping steels, and where low power consumption is required.
In addition, Top Cut 4 is featuring high-stability shanks in lengths of 2XD, 3XD, 4XD, and 5XD, in both metric and inch configurations. Diameter ranges from 12 to 68 mm (0.473 to 2.5 inches). Eight insert sizes cover the complete diameter range. The cutting edge profile of the central and periphery inserts works together, leading to high stabilization of the drill, preventing tool drifting even on irregular surfaces.
Robust cutter bodies are marked by deep helix angled flutes for efficient chip evacuation even at 5XD length. Large coolant holes mean efficient coolant delivery and extended insert life.
Additional Products from WIDIA