October 28, 2019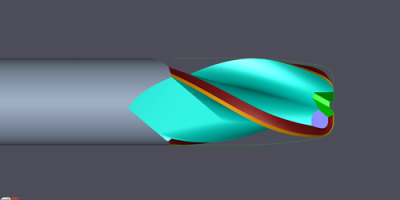 ToolRoom RN34 is the latest generation of ANCA's successful software package that has been specially designed for the aerospace, die and mold, general machining and power generation industries.

Thomson Mathew, ANCA software product manager, said: "ToolRoom RN34 is aimed to be the differentiator among many suppliers of endmill manufactures in the industry by allowing customers to design complex geometries through software to achieve increased tool life, productivity, cutting volume and increased quality and precision of the workpiece. The constant helix ballnose option, for example, is replaced by a graphical drag-and-drop designer. This ballnose type of tool, with optimised irregular helix curves to reduce vibration, and with near-instant visualisation easily achieved by switching from the 2D projection of the cutting edge to the 3D."

The new software promises benefits of:
Improved productivity through the intuitive creation of complex endmill geometries.
Tool balancing to increase tool life, cutting volume, quality and precision of the workpieces.
Minimising chatter through the simple design of high performance, complex tools.
Douglas Franke, Fraisa production manager, said: "with ANCA's balancing software we have a tool balanced generally within five minutes. Some of our more complex tooling can take a little longer – up to 20 minutes. This drastically decreased our time in setup on the machine which could take several hours. Our biggest success story has been an aerospace customer who is running our 1" aluminium roughing tool at 25k rpm."

ANCA's ToolRoom software provides industry renowned tool design flexibility, from the simplest to the most challenging tasks. With the benefit of over 40 years of grinding knowledge, ToolRoom supports both manufacturing or regrinding applications. Flexibility is further enhanced by the fact that ANCA develops all aspects of the machine in house - from the CNC system and application software to the machine and its accessories.

The new ballnose cycles allow end users to manufacture a range of ballnose tools suitable for finishing and roughing. The new designer edge can accommodate high helix on ball cutting edge for better fracture resistance and reduced vibration due to the irregular curve.
Ballnose with designer cutting edge.
New chisel edge grinding method.
Curvature gash – curved gash surface.
Flute gash – curved ball gash and fluting in single move.
Facet gash with periphery of 1A1 or 1V1 wheels.
Bullet and Bullnose style tools.
11V5 wheel grinding methods for improved wheel life.
Square to ballnose blank roughing cycles.
Various other methods of OD grinding with 11M2 wheels.
The double corner radius allows the design of barrel shape or lens shaped tools with larger to
smaller or smaller to larger radius from the end of tool. Vibration and deflection are reduced with
this style of geometry and the thinner chips that are formed provide longer tool life and enhanced
performance.
Barrel shape – large radius to small towards the end of tool.
Lens shape – small to larger radius towards the endface.
Curved endface design.
Roughing operation for corner radius tools.
Tool balancing is done on variable helix and pitch or single flute tools to minimise the eccentricweight distribution when using high speed machining. The benefits include reduced noiseand vibrations, improved machine bearing life, and better surface finish.
The different methods of balance are:
Flute length extension
Shank notch
The new fluting cycles are catered for manufacturing variable helix and pitch tools to eliminate the harmonics caused during high speed machining by varying the time intervals between the flute contact with the workpiece.
Support for the following option combinations:
- Variable helix with NAS hook
- NAS hook with radial land
- Variable helix and pitch with radial land
Per–flute programming options to control flute length, flute depth, core taper etc. individually.
Support for single flute tools to have depth equal or greater than tool radius.
A new ToolType is available from the endmill wizard to manufacture lollipop cutters. These cutters are widely used in the aerospace and die mould industries.
High helix angles for better surface finish and chip removal.
Shear lollipop for deburring applications.
Chip breakers for light work and the medical industry.
Use of iView and LaserPlus for measurement and compensation.
Support for reverse infeed when using large dish angles on square endmills where the software can manage wheel wear with number of passes.
Ability to choose between forward and reverse infeed.
New operation in endmill cycles to add OD chipbreakers.
Automatic or manual modes.
Applicable to all straight OD profile to complement corner radius, ballnose, side and face cutters and endface operations. A library of all the ANCA supplied collet adaptors and collets are available for the user.
This adds additional functionality in allowing one TOM file to be embedded into another TOM file.
Example: Corner radius with multi drill gash.
Like the iPunch operation in iGrind and KHP.
Some limitations exist, such as use of tool segments.
Support for a wide range of constant helix, constant lead and shear cutters widely used in the aerospace and power generation industries. All the above are supported for unmanned production with the support of the inbuilt LaserPlus which is fully automated.
Support for constant helix fir tree cutters.
Helical fluting with hook generating a flat flute surface.
Support for iView and LaserPlus.
A new wizard style ToolType has been added for countersink tools to support standard flute and fan gash flute style. The new countersink flute operation can define special flute shapes required for this application.
Support for RR, LL, RL, LR combinations.
Relief grinding using step editor sections.
Supports non-zero shear and upto 6 flutes.
Automatic CIM3D blank form.
A new feature is added to OD backoff/raised land fluting operation for drills, to be able to produce second margin towards trailing edge of the tool.
Double margin can be produced in both the backoff types OD and raised.
The second margin can also float at an offset angle from cutting edge of the tool.
This feature is made available to drills and step tools.
Manufacturing of a variety of threadmills is now possible with the addition of two new operations to the operations list. Threadmill grinding and cresting operations are supported with formed and standard fluting operations.
Support for drill threadmill, straight OD, tapered OD and all the combinations.
Possible to grind insert style or single rib threadmills.
LaserPlus support for large volume production.
Pocket grinding software allows the user to quickly and easily define PCD pocket geometry. This is required for PCD tools used mainly in the woodworking and aerospace industries for composite and nonferrous materials.
Ability to specify pocket geometry as common or for individual flutes.
Position of pockets can be fixed or alternated based on number of flutes.
Supported with spindle speed increaser hardware on all platforms for mounted point wheels.