October 13, 2013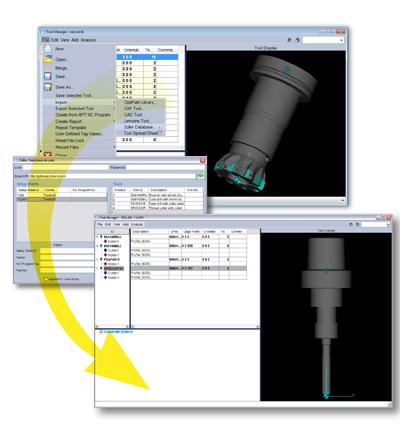 CGTech, the developer of VERICUT CNC verification and simulation software, and ZOLLER, a leading presetting and measuring machine manufacturer and expert in the field of tool management, have announced a new product to better serve the customer base of the two companies.
"Our interface to the ZOLLER TMS Tools Management Solutions provides a direct link between VERICUT and TMS," said CGTech Product Marketing Manager Bill Hasenjaeger. "A complete set of cutting tools for a job are quickly and easily transferred from the ZOLLER TMS database to VERICUT."
VERICUT simulates CNC machining to identify errors in the NC programs (such as collisions, over-travel, gouges, etc.). Using VERICUT, manufacturers can verify the accuracy of the program before it is loaded on the machine, thereby reducing or eliminating the need for time-consuming manual prove-outs. VERICUT also improves machining efficiency by optimizing cutting speeds.
"ZOLLER TMS Tool Management Solutions combines cutting tool information provided by cutting tool suppliers as well as actual physical tools that are scanned thru the ZOLLER presetter and measuring machine product line in 3D," said Zoller Inc. President Alexander Zoller."The user will benefit from a single source database for programing and simulation."
Related Glossary Terms
computer numerical control ( CNC)


computer numerical control ( CNC)

Microprocessor-based controller dedicated to a machine tool that permits the creation or modification of parts. Programmed numerical control activates the machine's servos and spindle drives and controls the various machining operations. See DNC, direct numerical control; NC, numerical control.

numerical control ( NC)


numerical control ( NC)

Any controlled equipment that allows an operator to program its movement by entering a series of coded numbers and symbols. See CNC, computer numerical control; DNC, direct numerical control.