February 17, 2023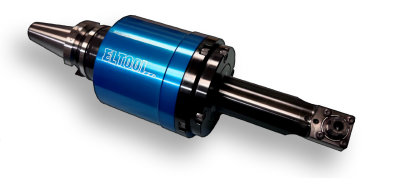 Lightweight coolant driven angle heads weighing as little as 3lbs are now available from Eltool Corp.
"Tool weight has often been a roadblock when it comes to using right angle heads on machines with BT30 taper spindles," said Kirk Batten, Applications/Product Engineer. "We wanted to provide a product for those with Brother Speedio and Fanuc Robodrill machines that is well under the 6lb maximum these compact machines can hold in their carousel. By using a hybrid of alloy steel and aircraft grade aluminum, rigidity can be maintained in the areas that require it. We feel this is a vast improvement over an all-aluminum construction seen in lightweight mechanical angle heads."
Titespot® angle heads are indexable, allowing multi-position machining with one angle head and set-up, and their compact profile allows machining in bores and cavities not accessible to mechanical heads. Eltool Angle Heads can machine in bores down to 5/8″ in diameter and develop up to 2.5 Horsepower – enough to drill ½" holes through 4140 steel.
Related Glossary Terms
coolant


coolant

Fluid that reduces temperature buildup at the tool/workpiece interface during machining. Normally takes the form of a liquid such as soluble or chemical mixtures (semisynthetic, synthetic) but can be pressurized air or other gas. Because of water's ability to absorb great quantities of heat, it is widely used as a coolant and vehicle for various cutting compounds, with the water-to-compound ratio varying with the machining task. See cutting fluid; semisynthetic cutting fluid; soluble-oil cutting fluid; synthetic cutting fluid.
Additional Products from Eltool Corp.