December 12, 2011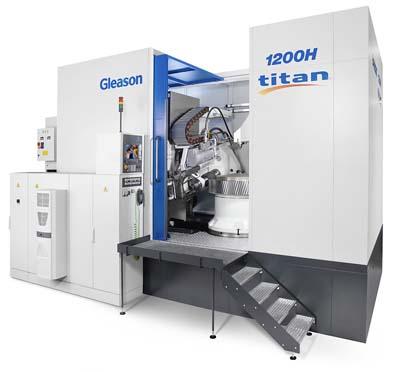 Gleason has introduced the Titan 1200H Hobbing Machine, the first of a new series of Titan hobbers designed for larger cylindrical gears with diameters ranging from 800mm to 6,400mm, and modules up to 40mm.
The new Titan 1200H Hobbing Machine, for workpiece diameters up to 1,200mm, features a new machine design that optimizes chip disposal for highly productive dry machining, while at the same time greatly improving operator accessibility to the work area to help reduce non-productive time for part and tool changeover. Non-productive time is further reduced through use of a fast, powerful automated ring loader, and Gleason's X-Pandisk workholding system, which automatically clamps and centers parts even as heavy as 2,000 kg.
The new machine design also delivers the exceptional system stiffness, rigidity and damping characteristics required for today's most demanding productivity and quality requirements, with a combination of a composite steel machine bed and new patent-pending combination slideway/anti-friction guideway design. In addition, the Titan 1200H's new operator interface, based on the latest Siemens 840D Solution Line CNC control system, enables any machine operator to more quickly and efficiently set up and operate the machine for maximum performance.
Related Glossary Terms
centers


centers

Cone-shaped pins that support a workpiece by one or two ends during machining. The centers fit into holes drilled in the workpiece ends. Centers that turn with the workpiece are called "live" centers; those that do not are called "dead" centers.

computer numerical control ( CNC)


computer numerical control ( CNC)

Microprocessor-based controller dedicated to a machine tool that permits the creation or modification of parts. Programmed numerical control activates the machine's servos and spindle drives and controls the various machining operations. See DNC, direct numerical control; NC, numerical control.

stiffness


stiffness

1. Ability of a material or part to resist elastic deflection. 2. The rate of stress with respect to strain; the greater the stress required to produce a given strain, the stiffer the material is said to be. See dynamic stiffness; static stiffness.