October 31, 2016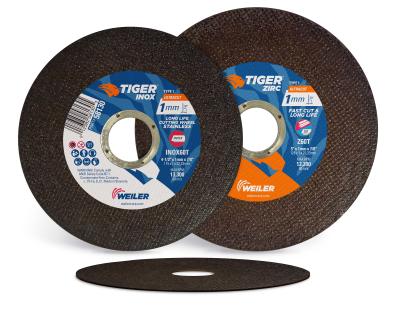 Weiler Abrasives Group has announced a new product in its Tiger bonded abrasives lineup. The new Tiger UltraCut thin cutting wheels deliver fast cuts, long wheel life and consistent performance—with a true 1mm thickness.
UltraCut thin cutting wheels cut 20 percent faster than the closest competitor's wheels, according to the company. The longer life allows operators to maximize cuts per wheel, reduce time spent on changeovers and lower the cost of use.
Weiler SOLID CORE technology increases wheel density, resulting in longer life, reduced friction and greater stability for improved operator safety. From the first cut, UltraCut thin cutting wheels provide operators with fast, smooth cutting action and exceptional control. The ultrathin wheels deliver clean, precise cuts with smaller seams on thin sheet metal, profiles, tubes and small diameter rods, reducing burrs and lowering the required welding and finishing time.
Tiger UltraCut 1mm thin cutting wheels are available in wheel diameters of 4½ and 5 inches in both zirconia alumina grain and INOX. The self-sharpening zirconia alumina grain offers a high cut rate throughout the life of the wheel for maximum productivity on thin gauge and small diameter steel and stainless steel applications. The INOX wheels incorporate a contaminant-free bond for worry-free cutting in stainless applications.