July 07, 2016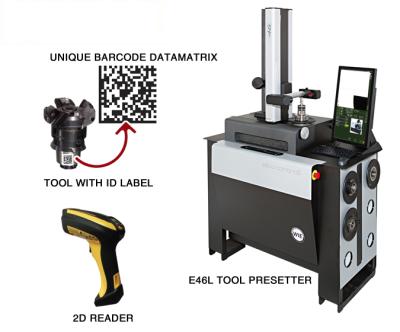 The TID System is an innovative tool identification system from Elbo Controlli that empowers workshops with an easy, affordable solution for tool data management. The TID system is a tool identification system that establishes an interface between the Elbo Controlli tool presetter and the machine tool NC. The TID system features an intuitive graphical user interface that enables operators to eliminate errors during data transfer.
The traditional expensive storage media are replaced with a bar code datamatrix code that uniquely identifies a tool. The code can be applied to a tool with a laser marking system or a printed label. A 2D datamatrix reader is included with the purchase of the software license. The TID software stores the tool data for each tool in a database. The software updates the tool information during loading and unloading of the tool.
The TID system can interact and acquire data directly from the CNC machines and the tool presetter thus making the integration with the machine and tool presetter easy. TID also allows configuration of the format and data mapping for tool identification. It allows full customization to manage different configurations as specified by the machine tool manufacturer.
The TID software is a cost effective solution that eliminates additional costs associated with the purchase of traditional storage media, multiple electronic scanners and mechanical settings modifications to the CNC machine PLC.
The TID system software can be installed on all advanced Elbo Controlli tool presetters namely Sethy Six, Hathor Six, E46L, E46L TW, 68B and the Amon Ra. In conclusion, the TID system is the perfect solution that makes interfacing between the tool presetter and the machine NC control easy and affordable.
Related Glossary Terms
computer numerical control ( CNC)


computer numerical control ( CNC)

Microprocessor-based controller dedicated to a machine tool that permits the creation or modification of parts. Programmed numerical control activates the machine's servos and spindle drives and controls the various machining operations. See DNC, direct numerical control; NC, numerical control.

numerical control ( NC)


numerical control ( NC)

Any controlled equipment that allows an operator to program its movement by entering a series of coded numbers and symbols. See CNC, computer numerical control; DNC, direct numerical control.