August 01, 2014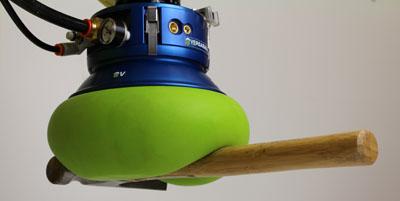 With eight new adjustable safety rated functions, Universal Robots presents a robot that adapts advanced safety settings to each specific application. The third generation of the UR5 and UR10 robot arms also comes equipped with True Absolute Encoders that eliminate the need for re-initializing the robot, enabling automatic startup and easier integration into other machinery.
CTO of Universal Robots, Esben Østergaard, explains that the patented new safety concept is a logical development of the Danish robot manufacturer's collaborative robot arms. "When a human enters the robot's work-cell, the robot arm can operate in reduced mode, and then resume full speed when he leaves again. Or, the robot can run full speed inside a CNC machine, for example, and then reduced speed when outside."
To achieve a switch between normal and reduced safety mode, eight safety functions are monitored by the new patented safety system: Joint positions and speeds, TCP positions, orientation, speed and force, as well as the momentum and power of the robot. The settings can only be changed in a password protected area. Another key innovation of Universal Robots' new generation of collaborative robots is the True Absolute Encoders, allowing the robot to achieve faster start-up because its position is recognized upon power-up.
"With the integration of the True Absolute Encoder, our robot-arms can be integrated even more easily into other machineries while startup also becomes much faster and simpler for all applications," says Østergaard.
The encoders in the UR robots are not battery driven, therefore named "True Absolute Encoders," eliminating the need to&frequently re-initialize the robot arms since their position in space is known despite the robot not requiring battery power to achieve this function. Though the robot arms, UR5 and UR10 are now equipped with numerous new features, Universal Robots remains true to its approach of user-friendly, lightweight robots.
The visual appearance of the six-jointed UR5 and UR10 robot arms, with a payload of 5/10 kilos respectively, remains unchanged. But inside of the robot arm itself, as well as in the controller, are more hidden surprises: 16 additional digital I/Os doubles the number of built-in I/Os, which are easy to configure either as digital signals or as safety signals. The control box has a revised design and a rebuilt controller to further improve the possibilities for connecting equipment to the control boxes.
Related Glossary Terms
computer numerical control ( CNC)


computer numerical control ( CNC)

Microprocessor-based controller dedicated to a machine tool that permits the creation or modification of parts. Programmed numerical control activates the machine's servos and spindle drives and controls the various machining operations. See DNC, direct numerical control; NC, numerical control.

payload ( workload)


payload ( workload)

Maximum load that the robot can handle safely.