July 18, 2017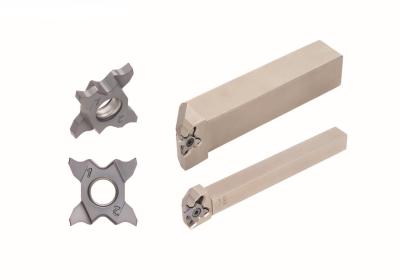 Tungaloy Corp. is broadening its TetraMini-Cut series grooving tool range for Swiss-type machines to include new insert lines, extending its grooving benefits with CNC lathes and turning centers. TetraMini-Cut features a compact four cornered insert that is securely clamped in an innovatively designed pocket for indexing repeatability and tool life stability.
Already reportedly successful in the Swiss lathe market, TetraMini-Cut is now expanding its benefits tothe general lathe market. The series now includes two new chipbreaker styles each with optimal cutting edge features. The new TCG style chipbreaker incorporates optimized rake angle and edge preparations, benefiting manufacturers in all industry segments, especially automotive. The TCP style chipbreaker features a large rake angle with a sharp cutting edge. Its maximum depth of cut is now extended to 3.5 mm (0.14") from the conventional 2.5 mm (0.01") for greater range of applications. To meet the requirements from small and miniature part manufacturers who are grooving with R0.1 mm (R0.004") or smaller, the TCP line also includes inserts with R0.05 mm (R0.002") corner radii.
The extended TetraMini-Cut line also includes the unique AH7025 grade featuring a nano-multilayer PVD coating with high aluminum content for effectively cutting various materials, while minimizing chipping, fractures, and plastic deformation on the cutting edge, which are common issues during grooving.
Additional Products from Tungaloy America Inc.