January 01,2015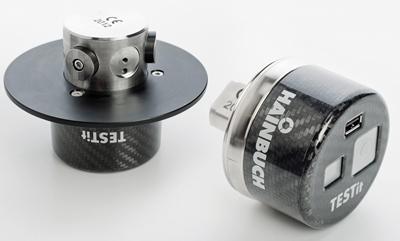 The Siemens Sinumerik CNCs have been enhancing machine productivity for over 50 years. Now they have another partner on their side: the Hainbuch Testit software. It is available on a data carrier for installation on Siemens CNCs [Sinumerik 840 D sl plus PCU50]. This means that a separate laptop is not needed anymore and manufacturing with »theoretical clamping forces« is also a thing of the past. Thanks to Testit, the operator always knows which clamping forces exist and where, and the actual maintenance status of the clamping device. And given the safety standard DIN EN 1550, it is a "must have." This means: The Testit clamping force gauge together with the Siemens CNC executes a target-actual comparison of the maintenance status of a clamping device. If the limit values are underranged, a warning message is output. Perfect, don't you think?
Based on his apprenticeship a machine operator or programmer has been taught to work in such a manner that a workpiece does not get destructed, e.g. when programming the manufacturing steps he builds in a lot of safety measures to minimize this risk. However, in reality, effective measurement data regarding the holding forces of a clamping device, and also in regards to the clamping forces of the clamping cylinder itself can only be obtained as vague reference values.
A machine operator who knows how dependent the holding forces of a clamping device derive from its current maintenance status are, or from the centrifugal force losses while turning with jaw chucks, is extremely sceptical of such makeshift calculations and hence builds in a high safety value. Machining of easily deformable components is also extremely critical. Usually only a very small margin of holding force is available. If an item is clamped too strongly, a sensitive component will be excessively deformed. Applying to little clamping force results in an inefficient set-up for rational machining.
However, the globalization of markets requires an optimum of the machining process. Those who face stiff competition can no longer afford to manufacture just by »feeling«. Measurement data is demanded. It not only functions perfectly for outer diameters and during rotation, it also precisely measures the holding force of mandrels for inner diameters.
Related Glossary Terms
computer numerical control ( CNC)


computer numerical control ( CNC)

Microprocessor-based controller dedicated to a machine tool that permits the creation or modification of parts. Programmed numerical control activates the machine's servos and spindle drives and controls the various machining operations. See DNC, direct numerical control; NC, numerical control.

turning


turning

Workpiece is held in a chuck, mounted on a face plate or secured between centers and rotated while a cutting tool, normally a single-point tool, is fed into it along its periphery or across its end or face. Takes the form of straight turning (cutting along the periphery of the workpiece); taper turning (creating a taper); step turning (turning different-size diameters on the same work); chamfering (beveling an edge or shoulder); facing (cutting on an end); turning threads (usually external but can be internal); roughing (high-volume metal removal); and finishing (final light cuts). Performed on lathes, turning centers, chucking machines, automatic screw machines and similar machines.