January 03, 2018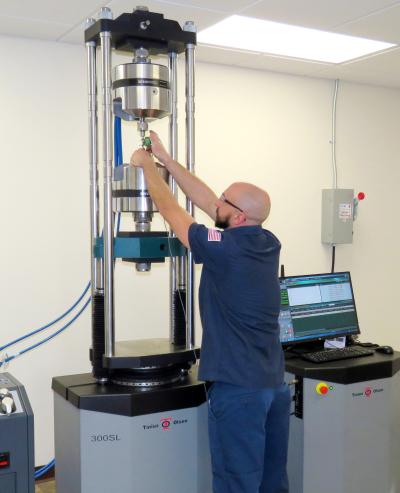 In a continuing quest to enhance customer service, Solar Atmospheres of Western PA has expanded its wings by adding another type of mechanical testing to its repertoire: tensile testing. Tensile tests are essential in determining and understanding the ultimate strengths of materials.
Currently, many aerospace specifications demand at least one tensile test to be performed on each heat lot of material and/or for every furnace load of components being heat treated. Tensile testing is not only more prevalent today but is often the mechanical test of choice that supersedes all others for the acceptance of properties.
Solar Atmospheres has traditionally outsourced all tensile testing by utilizing excellent locally accredited independent laboratories. Due to shipping and transporting test specimens to these laboratories, a delay of 24 to 48 hours before the lab even received the specimens was normal. With a keen ear to our customers' needs of receiving tensile results faster and more efficiently, Solar Atmospheres of Western PA set out on a continuous improvement initiative to bring tensile testing in house.
In the summer, Solar took delivery of a new Tinius Olsen 300SL Universal testing machine and installed it in a temperature controlled environment. In addition, to custom machine test specimens, Solar Atmospheres of Western PA purchased a new Haas Model TL-1 CNC lathe. Both units are physically located in a brand new 10,000-sq.-ft. facility adjacent to its 75,000-sq.-ft. vacuum heat-treating production facility.
Solar Atmospheres of Western PA has added room temperature tensile testing to the scope of their Nadcap accreditation. The Nadcap audit went extremely well and final approval was completed on Dec. 20, 2017.
As Bob Hill, President elaborated, "We at Solar listen to our customers very carefully. Our customer feedback was very definitive: they wanted faster turnaround on their heat treated components. By bringing this new destructive mechanical test in house we will be able to do just that."
Related Glossary Terms
computer numerical control ( CNC)


computer numerical control ( CNC)

Microprocessor-based controller dedicated to a machine tool that permits the creation or modification of parts. Programmed numerical control activates the machine's servos and spindle drives and controls the various machining operations. See DNC, direct numerical control; NC, numerical control.

heat-treating


heat-treating

Process that combines controlled heating and cooling of metals or alloys in their solid state to derive desired properties. Heat-treatment can be applied to a variety of commercially used metals, including iron, steel, aluminum and copper.

lathe


lathe

Turning machine capable of sawing, milling, grinding, gear-cutting, drilling, reaming, boring, threading, facing, chamfering, grooving, knurling, spinning, parting, necking, taper-cutting, and cam- and eccentric-cutting, as well as step- and straight-turning. Comes in a variety of forms, ranging from manual to semiautomatic to fully automatic, with major types being engine lathes, turning and contouring lathes, turret lathes and numerical-control lathes. The engine lathe consists of a headstock and spindle, tailstock, bed, carriage (complete with apron) and cross slides. Features include gear- (speed) and feed-selector levers, toolpost, compound rest, lead screw and reversing lead screw, threading dial and rapid-traverse lever. Special lathe types include through-the-spindle, camshaft and crankshaft, brake drum and rotor, spinning and gun-barrel machines. Toolroom and bench lathes are used for precision work; the former for tool-and-die work and similar tasks, the latter for small workpieces (instruments, watches), normally without a power feed. Models are typically designated according to their "swing," or the largest-diameter workpiece that can be rotated; bed length, or the distance between centers; and horsepower generated. See turning machine.