July 14, 2016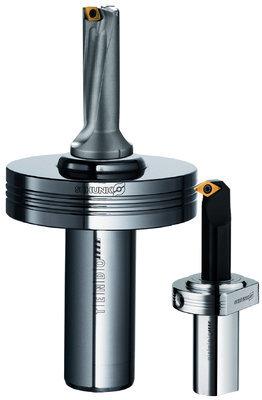 The SCHUNK TENDOturn utilizes a sealed hydraulic system which allows for fast and accurate tool changes. Users benefit from the advantages of the innovative hydraulic expansion toolholder technology, even with applications on lathes and milling centers.
There are two version of the TENDOturn, DSE and DKE. The DSE is made for live tooling and the DKE is for fixed tooling.
Key features of using the TENDOturn are the versatile clamping range by using intermediate sleeves, the runout and repeat accuracy of less than 0.003 mm and the ease of use. TENDOturn also has unique vibration damping, which makes for a fine surface finish. Micro-blowouts on the cutting edge of the tool are prevented, the spindle performance is enhanced, the tool service life is increased, which leads to high return on investment. It is for turn/mill centers and mill/turn centers, as well as for CNC rotary transfer centers and driven toolholders, for drilling, reaming, milling, turning, and thread tapping.