July 18, 2022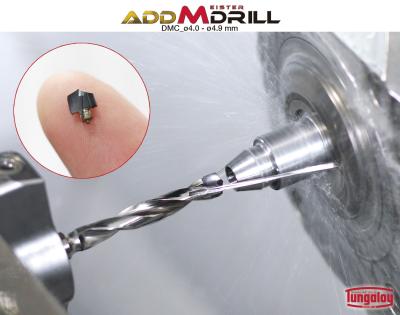 Tungaloy continuously expands the advantages of its AddMeisterDrill exchangeable-head drill solution into a smaller diameter range. Ten new DMC precision drill heads have been added to the line for diameters ranging from 4.0 mm (.157″) to 4.9 mm (.192″), expanding the entire range from 4.0 mm (.157″) up to 5.9 mm (.232″).
AddMeisterDrill exchangeable-head drills feature superior cutting performance of solid carbide drills and the ease-of-use of the DrillMeister modular drill concept, while allowing quick and secure exchanges of extremely small drill heads in diameters ranging from 4.0 mm (.157″) to 5.9 mm (.232″) thanks to its dedicated key. In addition, unique coolant outlets furnished on the drill body provides an increased ratio of through-coolant supply for improved chip evacuation and process security.
Featuring a unique self-centering chisel tip geometry, DMC drill heads facilitate quick penetration into materials, allowing high precision and stable drilling. The new drill heads are available in AH9130 PVD-coated grade developed specifically for drilling applications. Extremely wear resistant, the grade provides long tool life in carbon steel and alloy steel applications.
"Following the previously introduced 5.0-5.9 mm (.197″-.232″) diameter range, the new DMC drill heads are developed specifically for opening bores in diameters smaller than 5.0 mm." Explains Yuki Oikawa, the product manager of AddMeisterDrill about the features of the new drill heads. "The cutting edge geometry and edge preparation are optimized to achieve superior cutting edge integrity and self-centering capability. Also, the drill heads are ground to precision and coated with a thin, uniform coating film thickness for stable hole quality and long tool life."
Related Glossary Terms
coolant


coolant

Fluid that reduces temperature buildup at the tool/workpiece interface during machining. Normally takes the form of a liquid such as soluble or chemical mixtures (semisynthetic, synthetic) but can be pressurized air or other gas. Because of water's ability to absorb great quantities of heat, it is widely used as a coolant and vehicle for various cutting compounds, with the water-to-compound ratio varying with the machining task. See cutting fluid; semisynthetic cutting fluid; soluble-oil cutting fluid; synthetic cutting fluid.

edge preparation


edge preparation

Conditioning of the cutting edge, such as a honing or chamfering, to make it stronger and less susceptible to chipping. A chamfer is a bevel on the tool's cutting edge; the angle is measured from the cutting face downward and generally varies from 25° to 45°. Honing is the process of rounding or blunting the cutting edge with abrasives, either manually or mechanically.