May 22, 2023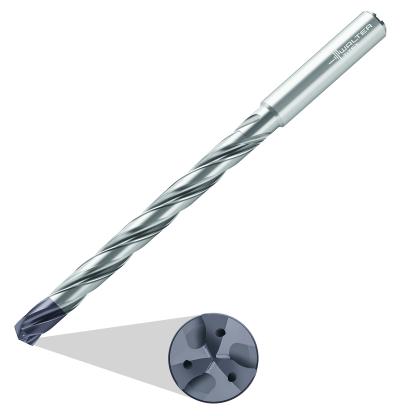 Walter has introduced the DC183 Supreme solid carbide drill with three cutting edges to achieve the highest machining volume. The drill has internal coolant channels and can be used with emulsion, oil or minimum quantity lubrication (MQL).
The drill is coated with Walter's new Krato·tec™ highly wear-resistant coating to achieve maximum productivity when holemaking. The highly fracture-resistant aluminum titanium nitride (AlTiN) multiple-layer coating technology was developed specifically for soled carbide drilling tools. The textured top layer has a high aluminum content to provide excellent heat, wear and oxidation resistance, while the graded transition layer provides exceptionally balanced residual stresses, and the base layer prevents cracks from forming in the coating.
The coating's benefits include maximum cost-efficiency due to the Krato·tec™ multiple-layer coating, high productivity and reliability thanks to the innovative new layer architecture, excellent protection against wear and adhesion when drilling at high cutting speeds, and exceptional performance when drilling numerous different workpiece materials. In company tests, the Krato·tec™ coating showed up to 50% increase in tool life compared to competing coating technologies.
The primary applications for the DC183 Supreme solid carbide drill are machining steel, cast iron and non-ferrous materials (ISO P, K and N). The secondary applications are super alloys and stainless-steel materials (ISO S and M). The main targeted areas of use are automotive, aviation and energy industries, mold and die making, and general mechanical engineering.
The diameter dimensions for the standard DC183 Supreme drill are from 0.118 in. to 0.630 in. (3 to 16 mm). The standard drill can produce holes 5 × Dc in accordance with the DIN 6537 long standard and holes 8 × Dc in accordance with the Walter standard. The diameter dimensions for the Walter Xpress drill are from 0.118 in. to 0.787 in. (3 to 20 mm). The Walter Xpress is for drilling holes up to 30 × Dc. The drill is available in two grades: WJ30EX, the AlTiN multiple-layer coating, and WJ30EY comprised of the K30F substrate and the AlTiN tip coating.
The Walter lineup of products consists of three categories of tools. Supreme tools (such as the DC183) indicate the highest level of technology and performance available. Advance tools indicate products efficiently balanced between price and performance and Perform tools are products that provide an economical solution with focused importance on price.