November 01, 2018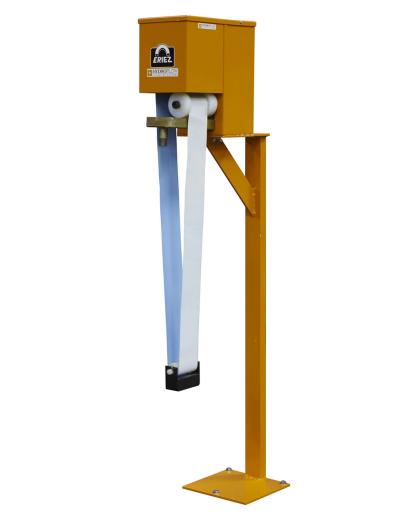 Surface oil belt skimmers from EriezHydroFloware for use on machine tools subjected to oil contamination in the range of 1 to 2 gallons per hour, with tanks deeper than 2'. With their oleophilic belt that strips separated oil from both sides of the belt and requires no contact with a stationary scraper, these units offer excellent performance and long service life.
Eriez' oil belt skimmers provide protection against destructive tramp oil contamination. Recognized as a major source of problems associated with water miscible cutting and grinding fluids, tramp oil contributes to the growth and formation of coolant destroying bacteria, undesirable residues on machine tools and workpieces and smoke and oil mist in shop atmospheres. Resulting issues may include shortened coolant life, inferior material removal rates, poor surface finish and size control and decreased tool and wheel life.
These state-of-the-art oil belt skimmers feature a 3" belt width and have the capacity to remove 1 to 1.5 gallons of oil contaminants per hour. Designed with operators' convenience in mind, the belt can be changed quickly and easily.
Manufactured with heavy-duty steel and industrial-grade enamel paint, these low maintenance units have an open, accessible oil collecting tray with a handy drain connector. A variety of oleophilic belt materials are available to suit different applications.
Related Glossary Terms
coolant


coolant

Fluid that reduces temperature buildup at the tool/workpiece interface during machining. Normally takes the form of a liquid such as soluble or chemical mixtures (semisynthetic, synthetic) but can be pressurized air or other gas. Because of water's ability to absorb great quantities of heat, it is widely used as a coolant and vehicle for various cutting compounds, with the water-to-compound ratio varying with the machining task. See cutting fluid; semisynthetic cutting fluid; soluble-oil cutting fluid; synthetic cutting fluid.

grinding


grinding

Machining operation in which material is removed from the workpiece by a powered abrasive wheel, stone, belt, paste, sheet, compound, slurry, etc. Takes various forms: surface grinding (creates flat and/or squared surfaces); cylindrical grinding (for external cylindrical and tapered shapes, fillets, undercuts, etc.); centerless grinding; chamfering; thread and form grinding; tool and cutter grinding; offhand grinding; lapping and polishing (grinding with extremely fine grits to create ultrasmooth surfaces); honing; and disc grinding.

tramp oil


tramp oil

Oil that is present in a metalworking fluid mix that is not from the product concentrate. The usual sources are machine tool lubrication system leaks.