October 08, 2022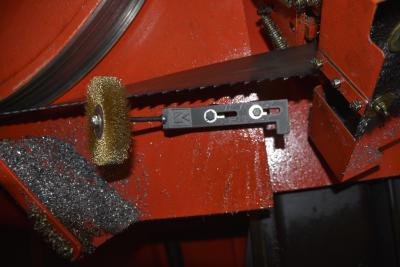 The M. K. Morse Company has released the Tooth Brush, a magnetic chip brush that helps to ensure optimal cutting conditions when using an industrial band saw blade.
The patent-pending design features 11 brush configurations to fit virtually every saw on the market and efficiently clear chips from blade teeth gullets.
Made with a long-lasting brass brush, the Tooth Brush is built for durability and easy to install on all machines. It is a convenient, affordable option to replace expensive and inflexible OEM brushes.
The assembly includes a 4" 300-micron brass brush, two 50 lb. magnets with anti-skid covers, and a pack of hardware – bolts, nuts, washers, and a sleeve.
Related Glossary Terms
bandsaw blade ( band)


bandsaw blade ( band)

Endless band, normally with serrated teeth, that serves as the cutting tool for cutoff or contour band machines.

sawing machine ( saw)


sawing machine ( saw)

Machine designed to use a serrated-tooth blade to cut metal or other material. Comes in a wide variety of styles but takes one of four basic forms: hacksaw (a simple, rugged machine that uses a reciprocating motion to part metal or other material); cold or circular saw (powers a circular blade that cuts structural materials); bandsaw (runs an endless band; the two basic types are cutoff and contour band machines, which cut intricate contours and shapes); and abrasive cutoff saw (similar in appearance to the cold saw, but uses an abrasive disc that rotates at high speeds rather than a blade with serrated teeth).