February 12, 2012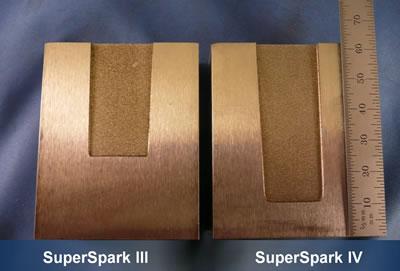 Makino Inc. releases the latest version of its industry-leading SuperSpark sinker EDM technology, SuperSpark IV. Building on the advancements of its predecessors, SuperSpark IV reduces roughing times in deep-rib applications by up to 30 percent.
SuperSpark technology uses a combination of shortened jump cycles and spark-gap adaptive power control to improve process efficiency and productivity. Under standard sinker EDM jump cycles, more than 60 percent of total process time is spent out of the cut. SuperSpark more than doubles the actual cutting time because its shortened jump height requires less time for electrodes to return to the workpiece.
In addition, its spark-gap adaptive power control enables electrodes to discharge sparks during the jump cycle for continuous cutting throughout the EDM process. As the electrode depth increases, the power and spark gap decreases to prevent overburn. Together, these technologies improve total machining times by 20 to 30 percent over standard sinker EDM technologies.
SuperSpark IV builds on these core features for higher efficiency in deep ribs and drafted electrodes. With its adaptive jump functions and automatic calculation, and adjustment of machine power according to depth and draft, SuperSpark IV significantly improves deep-rib machining efficiency over its predecessor.
The original SuperSpark technology, introduced in 2001, enabled manufacturers to significantly reduce overall roughing times. Subsequent versions have built on the technology's core benefits, providing additional improvements to roughing and finishing, particularly with tapered electrodes.
Related Glossary Terms
electrical-discharge machining ( EDM)


electrical-discharge machining ( EDM)

Process that vaporizes conductive materials by controlled application of pulsed electrical current that flows between a workpiece and electrode (tool) in a dielectric fluid. Permits machining shapes to tight accuracies without the internal stresses conventional machining often generates. Useful in diemaking.
Additional Products from Makino Inc.