November 01, 2018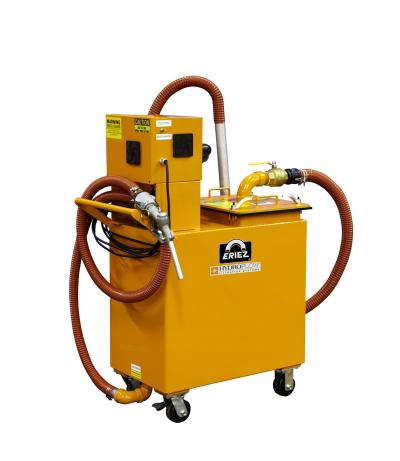 Eriez HydroFlow sump cleaners provide effective, thorough and quick machine cleaning to maintain plant productivity and minimize machine tool downtime. With an extensive selection of sump cleaners, there is an Eriez HydroFlow solution to meet practically any application need.
The broad assortment of sump cleaners from Eriez HydroFlow range from economical Drum Top Cleaners and Reversible Liquid Vacuums to industry's widely recognized top-quality sump cleaners. Manufactured since 1974, these heavy-duty industrial wet/dry vacuum filtration units rapidly and meticulously clean virtually any machine tool sump, tank or pit.
Eriez' Drum Top sump cleaner is a vacuum unit that converts an existing open-top drum into a powerful machine tool sump cleaner and sucks up tramp oils, used oil and waste coolants in a speedy and efficient manner. This advanced unit, which can also remove chips and fines, is a cost-effective alternative to a dedicated sump cleaner.
The Reversible Liquid Vacuum is another great option for customers faced with sump cleaning or liquid removal tasks. Designed to connect to a closed-head drum, it can be used to remove lube or hydraulic oils from reservoirs as well.
Eriez' premium, top-of-the line sump cleaner is designed to stand up to the toughest challenges associated with cleaning any machine tool sump, tank or pit. These state-of-the-art sump cleaners quickly remove the fluid, sludge and chips from the sump, and filter the sludge and chips from the fluid via the reusable integral filter liner. They can be set up to either return the filtered fluid to the sump or transport the fluid to the Eriez recycling system. The unit's polypropylene filter sleeve filters to a nominal 50 microns. If finer filtration is needed, such as in certain grinding applications, a single-use paper filter sleeve can be inserted into the chip basket. The paper sleeve filters as fine as 20 microns nominal.
Related Glossary Terms
grinding


grinding

Machining operation in which material is removed from the workpiece by a powered abrasive wheel, stone, belt, paste, sheet, compound, slurry, etc. Takes various forms: surface grinding (creates flat and/or squared surfaces); cylindrical grinding (for external cylindrical and tapered shapes, fillets, undercuts, etc.); centerless grinding; chamfering; thread and form grinding; tool and cutter grinding; offhand grinding; lapping and polishing (grinding with extremely fine grits to create ultrasmooth surfaces); honing; and disc grinding.