May 17, 2019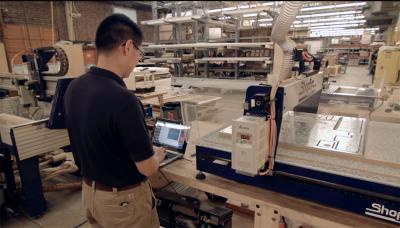 ShopBot announces the launch of its Subscription CNC program, emphasizing a simple, straightforward service that makes it easy to put a ShopBot CNC tool to work for your business. For one monthly payment, subscribers can put a Handibot Smart Power Tool, ShopBot Desktop, ShopBot Desktop MAX or ShopBot Buddy tool into production and access ShopBot's world-class team of trainers, web training resources and in-house support. There are no shipping fees and no cancellation fees. Subscription terms start with a minimum three-month commitment.
Making CNC technology and tools accessible to everyone has been a commitment from ShopBot Tools since first starting in 1996. ShopBot continues to believe that even the "little guy" should be able to successfully employ the capabilities of CNC—making small- to medium-size shops competitive in today's market.
The ability to cut, drill, machine and sculpt with precision and repeatability is not just for big companies any longer. CNC lets you produce things that cannot be made effectively by hand. The progress of mechanization makes the technology much more affordable, easier to master and practical. Subscription CNC now makes it possible for just about anyone to access.
"This is a service of a special kind available to individuals, companies, schools, and groups interested in having production assets at hand without distraction. When the subscription has served its function for you, and you've developed the resources and confidence for an investment, then you can cancel the subscription and build-out with equipment—now with a better understanding as to what you need," Jeanne Taylor, ShopBot's director of sales and marketing, explains. There is no long-term obligation or cancellation fee. Subscribers can trade-up or down on tool size as necessary.
Subscription CNC is not a sale or a financed-sale. Subscription CNC is different from leasing. Lease and rent-to-own programs are good, but they create a sales transaction rather than a partnership. ShopBot has 20+ years of experience in providing CNC tools to businesses and individuals alike—something that is readily apparent by the success of over 10,000 ShopBotters. "We know how to deliver the goods, the tools, the training, the support, and the resources to be productive and creative," adds Taylor.
Subscribers will be shipped new or "good-as-new" tools. ShopBot will continuously refurbish and recycle tools within the program and after these tools become heavily used, they will be offered to communities in need. Prolonging the life-cycle of products is the best way to get a full life out of all the things we make.
ShopBot Tools Founder and CEO Ted Hall summarizes, "Just like a traditional tool sale, we take responsibility for delivering tools that work and keep working. Subscription CNC is a new kind of accessibility that can help a small shop, program, a group, or an individual jump-start their work. It is our plan for making CNC even more obtainable to anyone who wants to make use of it."
Related Glossary Terms
computer numerical control ( CNC)


computer numerical control ( CNC)

Microprocessor-based controller dedicated to a machine tool that permits the creation or modification of parts. Programmed numerical control activates the machine's servos and spindle drives and controls the various machining operations. See DNC, direct numerical control; NC, numerical control.

web


web

On a rotating tool, the portion of the tool body that joins the lands. Web is thicker at the shank end, relative to the point end, providing maximum torsional strength.