July 14, 2016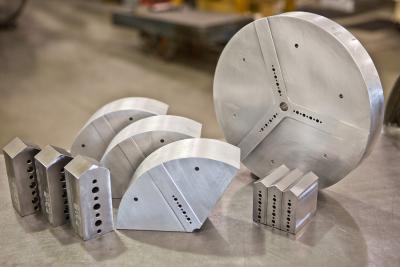 Dillon Chuck Jaws announces a new line Air Chuck Jaws including both Style M and Style R, such as those often machined using air chucks. CNC-machined for accuracy, the pins serve as a locator and allow precise repeatability plus fast installation.
Available as blank top jaws in 1018 steel or 6061 aluminum, or pie shaped jaws using A360 or 6061 aluminum, plus 1018 steel, they are ideal for all types of air chucks including Kitagawa Northfield and Microcentric brands. While Air Chuck Jaws may appear the same, there are significant performance differences due to manufactures' selected standards, and the manufacturing process used to achieve them. Dillon says its chuck jaws offer an attractive alternative to expensive OEM jaws and their associated slow deliveries.
Related Glossary Terms
chuck


chuck

Workholding device that affixes to a mill, lathe or drill-press spindle. It holds a tool or workpiece by one end, allowing it to be rotated. May also be fitted to the machine table to hold a workpiece. Two or more adjustable jaws actually hold the tool or part. May be actuated manually, pneumatically, hydraulically or electrically. See collet.