January 21,2016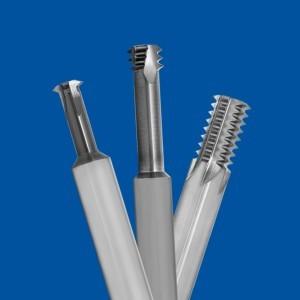 Scientific Cutting Tools Inc. (SCT) stocks UN thread mills for cutting from 4-40 up to 3-1/2-8, as well as NPT, BSPP and BSPT 1/16 to 2½ and up, according to the company based in Simi Valley, Calif. Except for staggered-tooth thread mills, all of SCT's solid-carbide, straight-flute thread mills are crest-cutting, and are used for cutting internal threads only.
Engineered for high performance, the tools are said to be both economical and long-lasting. SCT's straight-flute thread mills are made from premium sub-micron carbide on state-of-the-art CNC tool and cutter grinders, and are stocked with or without ALTiN coating.
Related Glossary Terms
computer numerical control ( CNC)


computer numerical control ( CNC)

Microprocessor-based controller dedicated to a machine tool that permits the creation or modification of parts. Programmed numerical control activates the machine's servos and spindle drives and controls the various machining operations. See DNC, direct numerical control; NC, numerical control.