July 01, 2020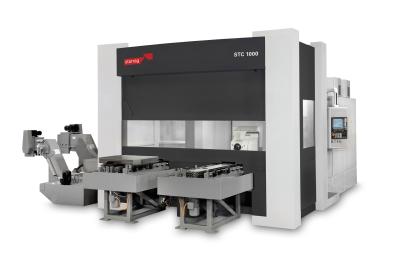 With 70 HP all-steel geared head spindles offering torque ratings up to 1,200 ft lbs., plus 200 bar/3,000 psi high pressure coolant for integrated turning, Starrag's new STC-MTV five-axis mill-turn machining centers are specifically targeted for hard metal machining of a wide range of workpieces. In the aerospace engine industry specifically for casings and gearboxes and in the energy industry for oil and gas applications.
The two new machines, models MTV 1000 and MTV 1250 offering 8,000 rpm/700 ft lbs. of torque and 4,500 rpm/1,200 ft lbs. plus 200 bar/3,000 psi high pressure coolant for integrated turning, are joining the STC-MTV family of horizontal machining centers.
These new MTV models promise unrivalled and highly effective single set-up milling, boring, drilling and tapping, as well as turning of materials such as Ti6AL4V and Ti5553 titanium alloys, nickel-based super alloys and high alloy steels, providing superior surface finishes on even complex and thin-wall parts.
Workpieces weighing up to 11,000 lbs. can be processed on the MTV 1250 (up to 6,613 lbs. on the MTV 1000) within the machines' X, Y and Z axes travels of 67 x 82 x 74 inches (MTV 1000) and 86 x 82 x 74 inches (MTV 1250), and both machines offer rapid traverse rates of 1,770 inches/min. Additionally, component diameters of up to 74 inches and 94 inches on the MTV 1000 and MTV 1250 can be accommodated.
High metal removal rates are guaranteed with the best-in-class, all-geared A axis spindle drive, where the compact 1D-head with minimal distance between the spindle nose and A axis enables the use of very short tools and large bearings. This provides ultimate levels of stability and rigidity compared to conventional motor spindles.
The virtually wear-free steel worm wheel boasts high stiffness and excellent damping. Indeed, a specially coated damping disk in the 1D-head, combined with optimal parameter settings from the Siemens 840D CNC, makes heavy roughing possible, semi-finishing and finishing in 5-axis operation.
Integrated high-pressure coolant permits highly efficient one-hit turning and the machines' 30 HP angular automatic milling head enables easy access to internal surfaces and features, thus further optimizing single set-up operation. The angle head is loaded automatically from the tool magazine and tools can also be automatically changed into/out of the head.
The C axis CNC rotary table offers 500/400 rpm with torque ratings of 2,950/4,425 ft lbs. on the MTV 1000 and MTV 1250,.
As is widespread practice throughout the Starrag range, STC-MTV machines can be used stand-alone or integrated into a cell or flexible manufacturing system and, if required, with other Starrag machines and utilize central tool handling and pallet transport/storage. They can also be integrated with additional processes such as co-ordinate measuring, part marking, deburring and washing.