March 03, 2023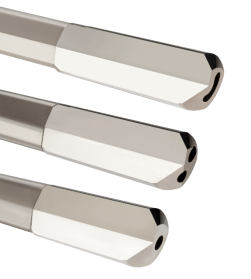 Star Cutter has announced Star Cutter Express, an enhanced Single Flute Gundrill program designed to provide companies with quality standard in-stock or customized gundrills in an expedited manner.
Standard Programs with Same Day Shipping: There are two stocked and standard product offerings where gundrills are delivered within 24 hours of the order.
The SFGD Express program is for Single Flute Gundrills in diameters from 0.1250" - 0.7500" (3.175mm - 19.050mm) and lengths up to 48" (1219mm).
The SCGD Express program is for Single Flute Solid Carbide Gundrills with standard ½" steel shanks in diameters from 0.0355"- 0.1969" (0.902mm - 5.000mm) in lengths from 4"- 12" (102mm - 305mm), depending on the tool diameter.

Custom Design and Built Program Express Shipping: The SFGD Custom Express program offers custom design diameters and lengths on single flute gundrills, which are shipped within a week. These products are available in custom diameters from 0.0920" - 1.0580" (2.337mm - 26.873mm) and lengths up to 72" (1828mm).
Related Glossary Terms
gundrill


gundrill

Self-guided drill for producing deep holes with good accuracy and fine surface finish. Has coolant passages that deliver coolant to the tool/workpiece interface at high pressure.