February 03, 2016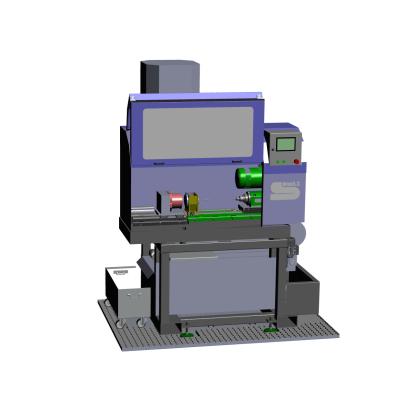 The Suhner Industrial Products Corp., Rome, Ga., recently announced that its SOMEX division offers custom-made deep-hole drilling solutions capable of drilling up to 12mm diameters and as deep as 100x diameter. Utilizing a modular component concept, the SOMEX deep-hole drilling solutions can be integrated directly into transfer machines, special purpose machines or conventional machines, according to a Feb. 2 company news release.
SOMEX routinely conducts tests with tools and material to prove out design and performance of each customized deep-hole drilling machine, the company said. Tests, conducted at the factory, use specific production tools under real production conditions. SOMEX uses single cutting edge and carbide spiral drills up to 70x the diameter. Using this approach, Suhner said that SOMEX is able to deliver practical and realistic results to its customers.
The deep-hole drilling process typically requires either a pilot-drill 1.5x the diameter or a drill guide bushing, which is then followed by the deep-hole drilling process. The unique SOMEX design concept combines the guide bushing with a chip basket, allowing both items to travel in unison. The movement of the guide bushing is air-driven, which is said to help provide a much closer contact to the part while preventing the escape of the coolant medium.
For longer deep-hole drilling applications, it may be necessary to integrate a support bushing to stabilize the deep-hole drilling tool, Suhner added.
For deep hole drilling applications above 18mm diameters, SOMEX has the option to equip its MAX machining units with drilling systems from its BTA- or EJEKTOR lines. In these applications, the coolant and chip management is accomplished through the spindle center. The emulsion is collected at the backend of the spindle, filtered and pressurized to re-enter the coolant system. This solution is often used in high-volume precision parts manufacturing such as in automotive and other industries.