December 01,2014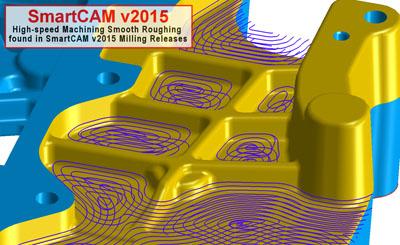 SmartCAMcnc has announced the release of SmartCAM v2015. SmartCAM v2015 delivers a new Knowledge-Based Machining (KBM) repository, new HSM strategies, and many user interface and core application improvements. The SmartCAM CAM software family consists of applications for CNC milling, turning, fabrication and wire EDM.
The knowledge-based machining improvements found in SmartCAM v2015 lay the groundwork for capturing user knowledge and shop expertise. A new KBM repository allows frequently-used toolpath process parameters to be stored and then later recalled. Part Materials can be defined directly within the SmartCAM application, and Speeds/Feeds settings can be stored and updated directly, without the need of a separate utility. The new Machine Definition allows all files associated with a particular machine to be simply recalled by selecting the Machine name.
"SmartCAM v2015 introduces a new Knowledge-Based Machining database that will serve as the backbone for all of SmartCAM's manufacturing data needs," said Douglas Oliver, SmartCAMcnc's Senior Product Manager. "With SmartCAM v2015 users will be able to store their best-practice, commonly-used toolpath processes and parameters and recall them for future reuse. Additionally, the enhanced Material Definition makes it easier for the casual user to take advantage of the powerful Material Library capabilities, and the new Machine interface simplifies job setup."
SmartCAM v2015 includes several High-Speed Machining improvements including new roughing and finishing toolpath smoothing capabilities, which remove sharp corners from the toolpath, thereby reducing shock to both the tool and machine. New closed-profile continuous morphing and ramping strategies can also be used in combination with the new smoothing capabilities. Furthermore, the restmill region calculation has been enhanced to consider material left behind anywhere within a region, including additional material left behind as a result of smoothing.
"The new high-speed milling enhancements in v2015 will be appreciated by all of our users that do significant amounts of roughing," Douglas went on to say. "These features follow some of our previous HSM efforts, and demonstrate our on-going commitment to improve SmartCAM's high-speed machining capabilities in future releases."
SmartCAM v2015 boasts a number of significant improvements to SmartCAM's user interface including new list picking, group toolbar, and toolbar scrolling to name a few. These improvements continue the UI development of previous versions and allow greater flexibility in how the interface is configured as well making the daily use of SmartCAM easier and more direct.
All SmartCAM v2015 products benefit from an updated ACIS modeling kernel as well as updated native and generic data translators. Many customer-requested core improvements have been added, including an all-new configurable Auto-save feature.
"SmartCAM v2015 is a significant step forward for the SmartCAM family of products." added Oliver. "The user interface improvements include several customer requested features that, based on the positive feedback we received from our previous UI improvements, will be welcomed additions."