November 13,2012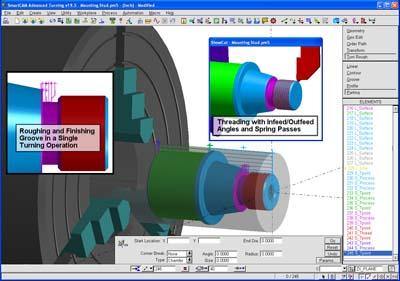 SmartCAMcnc has announced the release of SmartCAM V19.5. Version 19.5 continues the tradition of focusing the mid-year SmartCAM release on turning improvements, but also incorporates some milling enhancements that build on functionality introduced in version 19.0. Additionally, a substantial amount of core improvements are included that will benefit all SmartCAM users.
The SmartCAM product family consists of applications for CNC milling, turning, fabrication and wire EDM.
Core turning improvements include updated Threading and Groove Roughing capabilities, and a new Parting Process. The Threading Cycle now provides easy access to all threading parameters, and includes new thread options such as Infeed/Outfeed Angles, Start/End Extensions and Spring Passes. Additionally, Thread Blunting is now supported using an ID/OD groove tool in the threading cycle.
The Groove Roughing process has been significantly enhanced to include options to Cleanup Cusps, Finish-to-Size and Reverse Progression of cuts. The addition of cleanup and finishing passes allows the user to create the complete groove using a single process. Additionally, the geometry groove element can now be defined on a layer as a Groove Feature and used as input to any of the roughing processes, including Groove Rough, thereby providing a wide variety of machining strategy options.
"SmartCAM version 19.5 delivers significant core turning improvements. We've had many requests for improved threading and grooving capabilities, and are confident our users will be very pleased to see use this new functionality." said Douglas Oliver, SmartCAMcnc's Senior Product Manager.
A new Parting Process has been added that allows cut-off operations to be defined without the need of additional geometry construction. The Parting process allows radius or chamfer corner breaks to be applied to the edges on either side of the cut-off, and provides options for depth-pecking and controlling a part-catcher. This new feature saves time and improves accuracy and repeatability.
Several significant milling improvements are found in the version 19.5 milling applications as well as the mill/turn capabilities of SmartCAM Advanced Turning. The Part Offset path type introduced in the version 19.0 Region Rough process has been integrated into the other roughing processes such as Pocket, Face, Solid Pocket, and Planar roughing, and now supports the Stay Down option previously introduced for Spiral path type in v19.