February 12,2012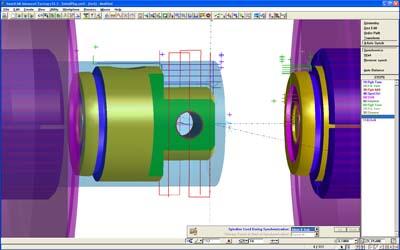 SmartCAMcnc has announced the release of SmartCAM V18.5. Version 18.5 delivers new and improved functionality to the SmartCAM turning and milling suite of products, and several core usability enhancements to the entire SmartCAM suite of computer-aided manufacturing (CAM) system software. The SmartCAM product family consists of applications for Computer-Numerical Control (CNC) milling, turning, fabrication and wire EDM.
SmartCAM Version 18.5 was built on three central themes: turning and mill/turn improvements; mill roughing improvements; and core usability enhancements requested by customers.
Sub-spindle support is introduced to the SmartCAM Advanced Turning product, and is one of three major turning improvements in V18.5. It allows machining operations to be defined on workplanes designated for the sub-spindle. SmartCAM toolpath generation routines now allow toolpath to be created using main- or sub-spindle plane orientations, and a sub-spindle offset parameter allows the sub-spindle origin to be offset from the main-spindle origin by a specified distance. Turret synchronization now allows turning operations to be synchronized across spindles, and new code generator template words provide support for independent spindle control, and conditional sub-spindle output.
"In version 17.5 we began a significant effort to expand the Mill/Turn capabilities of our Advanced Turning product. With V18.5 we continue to demonstrate our commitment to the Mill/Turn market with the addition of sub-spindle, B-axis indexing, C-axis face indexing and canned-cycle roughing support," said Douglas Oliver, SmartCAM's Senior Product Manager. "SmartCAM users with multi-function turning machines will now better utilize their equipment, and achieve higher levels of efficiency and reduced cycle times, saving significant time and money in the process."
B-axis Indexing Support is the second major turning improvement added to SmartCAM Advanced Turning. It allows live tools on machines with a pivoting B-axis to be positioned to machine on the face or side of a part, as well as on skewed planes. The Show Path and ShowCut toolpath and material removal verifications have been enhanced to display the tool pivoting into position, providing a more accurate and realistic representation of the machine movement, and the Code Generation module has been enhanced to output the corresponding B-axis positions and commands.
The third significant turning improvement, Live Tool C-Axis Face Indexing, is found in SmartCAM Advanced Turning. The C-axis indexing capabilities of Advanced Turning have been extended to include the ability to index user defined workplanes whose local Z axis is parallel to the world Z axis. This new capability allows machines with a Y axis to machine repetitive face features by indexing the C axis to each feature position then using XY motion to cut the feature.
The final major turning improvement, Canned-cycle Roughing Support, is found in both SmartCAM Production Turning and SmartCAM Advanced Turning. This new support takes advantage of a machine control's built-in roughing cycles by outputting the necessary canned-cycle commands and part profiles, while still providing in-SmartCAM verification that accurately simulates the material removal. Also in V18.5, all SmartCAM milling products provide a new Rough Milling Morph pattern, which allows a variety of pocket and face features to be machined with a continuous toolpath that blends between an outer boundary and an inner point or island. This new pattern type ensures the specified cut type (climb or conventional) is consistently maintained throughout the entire toolpath while eliminating retracts and re-entries which can often lead to reduced feedrates and tool breakage.
The Advanced Milling products (Advanced Milling and FreeForm Machining) include a new Closed Profiles Planar Rough Process option that provides further control by allowing machining to be restricted to closed areas only.