September 21,2016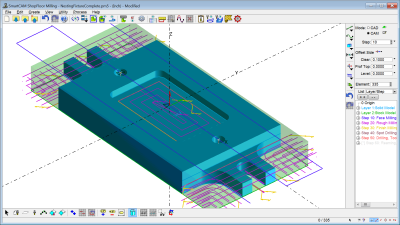 SmartCAMcnc announced the release of SmartCAM ShopFloor Milling, an easy-to-use and affordable shop-floor programming system designed to empower machinists with CNC programming independent of their in-house programming department. With this new product launch SmartCAMcnc reportedly provides more functionality than traditional conversational programming, offline and independent of specific conversational CNC format.
SmartCAM ShopFloor Milling will launch on the Predator Cloud Network which provides a secure shop floor network and computing platform in the cloud via a low cost monthly subscription. Each machinist's Windows desktop, data and applications are stored in the cloud and automatically backed up. In addition to SmartCAM ShopFloor Milling, additional Predator hardware and applications include Predator DNC, Predator PDM, Predator MDC, Predator Virtual CNC, Predator CNC Editor, Predator Tracker and Predator Travelers are available via monthly subscription. All software updates, hardware replacement and desktop support for the managed desktops are performed by Predator support personnel. Add and subtract users or machines as needed with all changes reflected in the following month's bill. Cancel with 30 days' notice and return of all Predator cloud hardware. High speed Internet access and first and last month's subscription is all that is required to get started.
An industry first is the new Predator Cloud Network designed for manufacturing shop floor personnel. The expense and time needed to secure a manufacturing shop floor network and it's ongoing costs have been simplified to a low cost monthly subscription.
"We are very excited to partner with Predator Software and their new Predator Cloud Network. Over the past several years Cloud Computing has taken an ever-expanding role in all facets of computing, and the manufacturing sector is no different." said Gregg Olson, SmartCAMcnc president.
"At one time, CAD/CAM software required a high-end and expensive computer system, some of which cost over well over $10,000 or more. With the recent advent of zero-client servers that cost less than the price of a quality office chair, even the smallest machine shops can use powerful CAD/CAM VMware through the Cloud, without incurring the expense and maintenance of costly PCs. SmartCAM ShopFloor Milling is SmartCAMcnc's first VMware offering, and we are eager to develop and deliver more applications in the VMware space." Olson added.
"Cloud computing has changed every industry segment and it is time for manufacturers to take advantage of the platform on the shop floor." said Jim Abbassian, Predator Software president and co-founder. "The Predator Cloud Network solves the need while empowering shop floor personnel, manufacturing engineers and IT staff."