April 12, 2022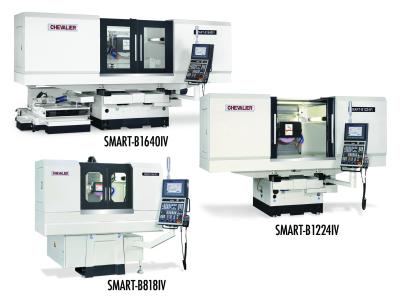 Intelligent. Dynamic. Affordable.
These words describe the driving forces behind the newly design SMART-IV Series of CNC surface grinders. They're also the benchmarks required by the medical, energy, semiconductor, aerospace, mold and processing industries to meet current and future market demands.
With six machine sizes available, this series is capable of producing complicated shapes along with finer finishes, resulting in highly accurate workpieces. The heavy-duty slide rails, one-piece base casting and hardened wheelhead guideways create a solid, rigid machine structure that minimizes vibration, movement and displacement. And the fully enclosed cover design provides more protection, preventing cutting coolant splashing and oil mist dissipation while avoiding grinding danger by completely protecting the operator.
Our grinding machines are designed to be user friendly. And our exclusive next generation SMART iControl incorporates production efficiency, which simplifies operation procedures and greatly enhances the performance of Chevalier multifunctional CNC surface grinders.
SMART iControl features:
Intelligent Grinding Assistant System Sets parameters based on prioritizing the machining process for precision or speed in order to improve application efficiency.
Intelligent Auto Wheel Dressing This function detects when the wheel needs to reach optimal cutting efficiency regardless of operator experience.
Grind CAM Built-in Function Allows users to import CAD files for wheel and part profiles, and convert file data to processing paths. This function allows for greater operator efficiency and eliminates the need to purchase additional software.
SMART Grinding Path This feature automatically minimizes air- cutting strokes during grinding of such irregular shapes as I, L, Z or triangular. It also automatically removes invalid cutting strokes and improves overall processing efficiency up to 40%.
TaskLink+ The operator can use TaskLink+ to quickly see each program name and its corresponding grinding parameters. This mode enables operators to complete and visualize grinding tasks in one program.
In-machine Dynamic Balancing Operator can manually adjust the grinding wheel to reduce grinding wheel vibration and eliminate the surface workpiece ripple to improve grinding quality.
Workable Soothing Function Reduces reciprocating vibrations caused by the X-axis ballscrew to enhance the surface finish of a workpiece.
Combined with TaskLink+, the SMART iControl allows operators to create their own programs for generating complex grinding tasks in a single cycle—without an engineering degree.
The SMART-IV Series also features tools to secure Big Data with Chevalier's exclusive iMCSTM (iMachine Communications System). Combined with 24/7 data collection, utilization monitoring, data analysis, alarm history, maintenance and overall equipment effectiveness (OEE), this software package enhances machine efficiency in the factory while enabling remote monitoring and diagnostics to track machine performance and identify potential problems.