January 02, 2019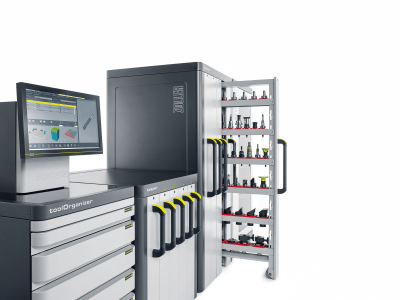 The ZOLLER Smart Cabinets provide storage solutions for all single components, assemblies, holders and accessories. Thanks to their connectivity to ZOLLER TMS Tool Management Solutions software, the Smart Cabinets allow you to precisely track the exact location of any given tool, and to track who checked the tool out, for which machine and too which job, all through the software.
With individually locking compartments you maintain a high level of accountability and control over your tools, and thanks to their modular design, you are able to customize the configuration of each cabinet to your precise specifications. Manually or electronically locking drawers allows you to choose what works best for you. The ZOLLER Smart Cabinets are the best way to control your tooling, components, holders and accessories easily and transparently and significant reduce tool costs.
Related Glossary Terms
modular design ( modular construction)


modular design ( modular construction)

Manufacturing of a product in subassemblies that permits fast and simple replacement of defective assemblies and tailoring of the product for different purposes. See interchangeable parts.