February 01, 2014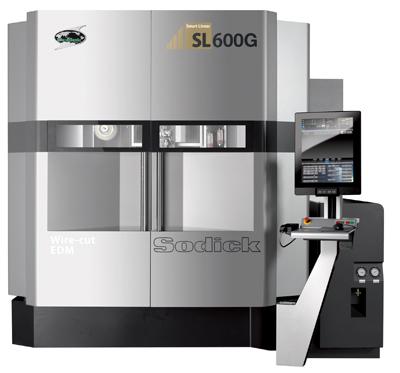 With the high demands of today's market for the latest innovative technology, Sodick Inc. is continuously working on R&D for new machines that are faster, more accurate and achieve a finer surface finish. The most recent line of machines to be included in Sodick's product range is the SL-G Wire EDM Machine range.
The SL-G range features two models, the SL400G and the SL600G. Both models feature the same linear motor driven technology that Sodick EDMs are known for. They also come with a 10-year positioning accuracy guarantee. The SL400G has an X, Y, Z travel of 15.75" x 11.81" x 9.84" (400 x 300 x 250mm), while the SL600G has an X, Y, Z travel of 23.62" x 15.75" x 13.78" (600 x 400 x 350mm).
These machines feature a Smart Pulse Generator. The Smart Pulse Generator reduces the number of cuts necessary to achieve the required accuracy and surface finish. This reduction in machining time translates directly into a financial advantage.
The new control SPW (Smart Pulse Wire) has many attractive features, from the use of the industry standard Windows 7 operating system, to an enhanced 19 inch multi touch screen, which operates like a tablet. The operation screen can be selected between the traditional screen and the new tablet style screen. Screen layouts can be customized by the operator to suit their working preferences.
Related Glossary Terms
electrical-discharge machining ( EDM)


electrical-discharge machining ( EDM)

Process that vaporizes conductive materials by controlled application of pulsed electrical current that flows between a workpiece and electrode (tool) in a dielectric fluid. Permits machining shapes to tight accuracies without the internal stresses conventional machining often generates. Useful in diemaking.

linear motor


linear motor

Functionally the same as a rotary motor in a machine tool, a linear motor can be thought of as a standard permanent-magnet, rotary-style motor slit axially to the center and then peeled back and laid flat. The major advantage of using a linear motor to drive the axis motion is that it eliminates the inefficiency and mechanical variance caused by the ballscrew assembly system used in most CNC machines.

wire EDM


wire EDM

Process similar to ram electrical-discharge machining except a small-diameter copper or brass wire is used as a traveling electrode. Usually used in conjunction with a CNC and only works when a part is to be cut completely through. A common analogy is wire electrical-discharge machining is like an ultraprecise, electrical, contour-sawing operation.