February 08, 2016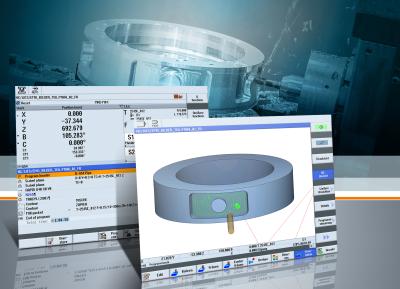 With version 4.7 of the Sinumerik Operate graphical user interface software, Siemens Industry Inc. reportedly improved multi-tasking with machine tools, according to a company announcement release today.
Sinumerik Operate and the Sinumerik 840D sl CNC combine several machining technologies such as turning, milling and drilling, as well as workpiece and tool measurement on one machine, which is said to guarantee the complete machining of highly complex workpieces such as those found in the aerospace industry. Version 4.7 of the software features extended setup and manual modes (JOG), which now interactively support the user when setting up mill-turn machines. Also new is a measurement function for turning tools where the setting screen automatically changes depending on the tool type to be measured.
In addition, the new software version improves workpiece measurement—now enabling the user to easily check and specify the workpiece zero—and simplifies the approach of turning tools in tool setup mode (TSM). When a user selects a turning tool, the machine automatically switches to turning mode.
Highlights of the latest Sinumerik Operate software version include:
Cross-technology, standardized look-and-feel for milling, turning, drilling and measurement functions.
Complete machining in one clamping.
Flexible NC programming using programGuide and ShopMill/ShopTurn.