May 17, 2019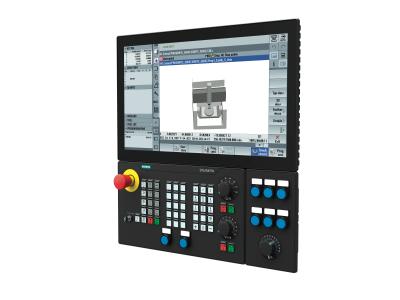 Siemens offers its popular Sinumerik CNC Blackline touch panels with a new feature, the sidescreen enhancement. This development enables users to customize the panel of the CNC, laying out the operator panel in real time, using a drag-and-drop technology. Screens can be customized to view documents, camera projections, web server access information, access protection data for IT security protocols and even user administration.
Features and functionality such as the ongoing checking of the machine tool status, quicker and easier navigation, elimination of mechanical keys and adding new keyboards can be achieved with the sidescreen feature. The result is greater space savings with improved and highly flexible design and feature arrangement onscreen.
Sinumerik CNC sidescreen can be opened or closed on either the left or right side of the master operator panel and allows for positioning to suit the design and viewing angles on the machine for greater operator ease of use. The sidescreen works seamless with the Sinumerik Operate graphical user interface.
These Blackline Plus sidescreen operator panels are available in 16-9 aspect ratio, high-definition formats with multi-touch, scratch-resistant and non-reflecting panel technology, sealed for use in the harsh manufacturing environments yet sensitive enough to permit simple and secure operation while wearing gloves.
This feature is now offered on Sinumerik 840D sl models with 15", 19", 22" and 24" operator panels.
Related Glossary Terms
computer numerical control ( CNC)


computer numerical control ( CNC)

Microprocessor-based controller dedicated to a machine tool that permits the creation or modification of parts. Programmed numerical control activates the machine's servos and spindle drives and controls the various machining operations. See DNC, direct numerical control; NC, numerical control.

web


web

On a rotating tool, the portion of the tool body that joins the lands. Web is thicker at the shank end, relative to the point end, providing maximum torsional strength.