October 01,2014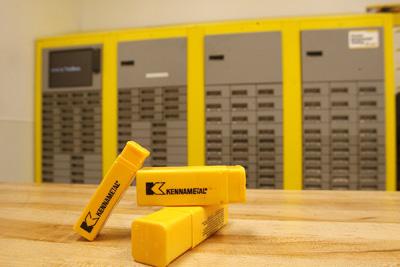 An established global leader and an agile expanding start-up. A leading provider of wear-resistant solutions, while concurrently a pioneer in delivering digital data solutions of real value. A manufacturer and at the same time a service provider, all these describe Kennametal, a company continuing to expand and re-conceive its services portfolio in light of its latest products, historical leadership and commitment to "Different Thinking is Better Thinking."
"Our continuing mission is to provide a market-driven services portfolio inspired by an intimate understanding of our customers' needs driven by different thinking," says Mark Fallek, Kennametal's Director of Enterprise Services.
For example, Kennametal's NOVO digital cloud-based process planning adviser not only recommends the best tools and sequence of operations to produce the desired feature, it also interfaces with Kennametal's ToolBOSS automated inventory system to assure the right tools are on hand or can be electronically ordered and shipped. ToolBOSS users on the cloud with the latest software version can now use NOVO to see if an item proposed for a process plan is already available in their ToolBOSS inventory, making both plans and budgets more efficient. Customer part numbers are automatically populated in NOVO Tool Advisor results and Tool Availability pop-ups via the ToolBOSS database.
"By adding ToolBOSS credentials to their user profile, customers easily check the inventory in their local ToolBOSS units with their developing process plans," says Chris Merlin, Marketing Manager for the Virtual Machining initiative at Kennametal. "They're better able to utilize items already in their shop."
For customers wishing to benefit from Kennametal expertise on site, Kennametal will staff dedicated service teams within a client's facility to manage the company's tooling inventory, preset tooling, deliver tools to the production floor, and continually optimize production performance.
Such programs have evolved far beyond traditional product and labor fee-based programs to arrangements where Kennametal is actually compensated for each successful part machined. These on-site partnership programs deploy industry leading software that includes tooling inventory and total supply chain management, presetting interface, CNC programming, and NOVO, all with the latest in tool performance dashboards. Using this cost-per-part approach, both Kennametal and its client share directly in the success of the plant and productivity savings achieved.
Hallmarks of Kennametal cost-per-part programs are that they are carefully planned, accountabilities are clearly defined, improvement targets established up front, and metrics constantly monitored to track performance. This type of program is best-suited to clients who are truly interested in long-term win-win partnerships where the rewards are shared by both parties. As an added benefit of developing an integrated partnership, Kennametal cost-per-part partners get early access to new products and technologies. In short, clients who engage at this level implement new technology faster than their competitors.
When it comes to local service, metalworking operations require three things – their problems are understood, they are responded to quickly, and that they get the right solutions. To better understand its metalworking customers, Kennametal took time to visit and listen to them before launching its latest strategy of investing in facilities that provide the leading-edge technology solutions it is known for, the fast turnaround demanded in their operations, and local presence they can rely on.
According to the company, that's the different thinking Kennametal is exhibiting in its new Rapid Response Center, which opened in Busan, South Korea in April 2014. Joining Rapid Response Centers in Kingswinford in the United Kingdom's West Midlands; Istanbul, Turkey; and Zory, Poland, Rapid Response Centers are bricks-and-mortar commitments to providing Kennametal global expertise locally and with quick turnaround.
Kennametal's Rapid Response Centers focus on the capability to quickly turnaround requests for simple specials in round tools (solid-carbide drills and end mills) and reconditioning existing tools. Rapid Response Centers provide local access to acquiring the original Kennametal proprietary geometry specifications for the highest performance out of reconditioned tools. This proprietary technology is reportedly unique to Kennametal and provides productivity savings not just with the first use, but also throughout the entire lifecycle of the tool. Simple specials, also made locally, come with the same unique technology and are delivered in a shorter timeframe to match customer production schedules. Once requests are received, quotes will be turned around within 24 hours. For manufacturing simple specials, tool orders are targeted for delivery within 10 days or less.
Kennametal's commitment to inventory management best practices as well as good environmental citizenship is reflected in its commitment to carbide recycling, both in its own operations and those of metalworking, mining, and construction customers. "This is another example of how Kennametal's different thinking improves things across business and environmental areas," Fallek says. "Kennametal has been recycling carbide for many years and has been a reliable partner to our customers for their own environmental initiatives. Together, Kennametal and its customers are helping protect the environment by increasing our overall environmental responsibilities and reducing overall environmental impact."
What type of carbide products will Kennametal accept? Kennametal accepts all hard and sintered carbide, including but not limited to metalcutting inserts, drills, end mills, punches, dies, brazed carbide parts, and more.
Moreover, the Kennametal Green Box program and Carbide Recycling website make it easy for Kennametal customers to participate. Recycling containers are available for order at no charge for Kennametal customers, and macros are available for customers to enter their information and receive quotes and confirmation sheets as well as shipping information to the appropriate location. Upon receipt, Kennametal reviews and weighs the material and, based on the confirmed carbide weight, issues payment and returns the green container(s) to the customer. Customers also have the option of receiving credits on subsequent tool purchases, if they so choose.