October 03, 2016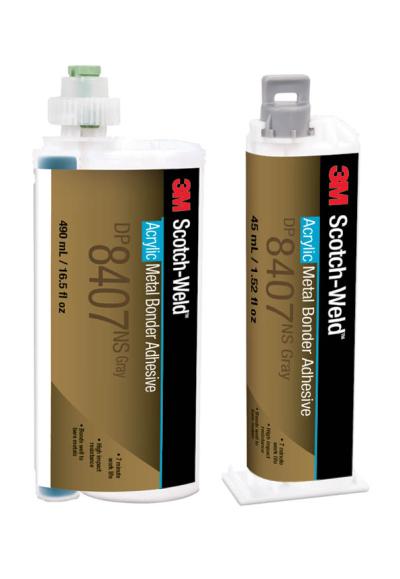 Design engineers are often faced with tricky applications that require bare metals to be bonded, and it can be tough to find products that can achieve this without extensive surface preparation. The path of continued improvement and signature innovation from 3M has reportedly led to a product that delivers strength, corrosion resistance and reliable performance for bonding metal: 3M Scotch-Weld Metal Bonder Acrylic Adhesive DP8407NS.
This high-strength, fast-curing structural adhesive offers high peel and durability, and maintains its strength at temperatures as low as -40° F. This product is also well-suited for bonding metals prior to powder coating and paint processes, because it can withstand scorching temperatures of up to 400° F for at least one hour, with the ability to bond active metals like steel, copper, brass, and bronze, 3M's Metal Bonder is ideal for a wide range of assemblies in metal fabrication, transportation, specialty vehicle, architectural panels, appliances and office furniture. The product also bonds plastics and composites for multi-material bonding.
3M Scotch-Weld Metal Bonder Acrylic Adhesive DP8407NS Gray leads the charge in the next generation of structural adhesives, engineered with high impact strength and vibration resistance. Its unique chemistry can bite through difficult surfaces like slightly oily metal with minimal surface prep. It is thoughtfully designed to stave off the corrosion that can plague metal surfaces over time, and it's durable enough to resist solvent and outdoor exposure.
"The extreme temperature performance and corrosion resistance of 3M Scotch-Weld Metal Bonder Acrylic Adhesive DP8407NS Gray make this metal bonding structural adhesive ideal for powder coating and paint cycles," said Mark DeLaForest, marketing manager for structural adhesives at 3M. "3M is committed to revolutionizing the assembly process, and we are excited to provide customers with an adhesive that exhibits peak performance and exceptional strength for metal bonding assemblies across a wide range of industries."
Application of 3M Scotch-Weld Metal Bonder Acrylic Adhesive DP8407NS is made simple with the 3M Scotch-Weld EPX Manual Applicator. The EPX applicator, a precision mix system, simplifies the adhesive application process with uniform mixing and dispenses ready-to-use material. This unique 3M Scotch-Weld Metal Bonder Acrylic Adhesive DP8407NS has an extended, 18-month shelf life while being stored at room temperature, no refrigerator space necessary.
Related Glossary Terms
composites


composites

Materials composed of different elements, with one element normally embedded in another, held together by a compatible binder.

corrosion resistance


corrosion resistance

Ability of an alloy or material to withstand rust and corrosion. These are properties fostered by nickel and chromium in alloys such as stainless steel.

lapping compound( powder)


lapping compound( powder)

Light, abrasive material used for finishing a surface.